Costa Rica National Parks: if you scroll down, after the text you will find a list ordered by province, if you click on top of the name of each National Park, the link will take you to the page dedicated to your selection, with information, schedules, phone numbers (if available), GPS coordinates, photos and address maps.
Haga click en el siguiente enlace para leer está página en Español: Parques Nacionales de Costa Rica
Costa Rica, with more than 615 wildlife species per 10,000 km2, is located on the top of the list as the most bio-diversify region of the world, because it is home to an incredible abundance of exotic tropical flora and fauna. This small country in Latin America is home of 12 key ecological areas. With an estimated 5% of global biodiversity, makes undoubtedly that many scientists and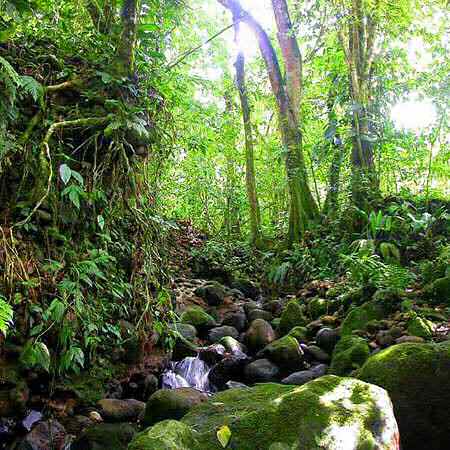 naturalists from around the world refer to Costa Rica as an "Alive Eden".
That is why in 1970, Costa Rica established the National Park System to avoid the destruction of wilderness areas, so that 25% of the country's land, in an effort to preserve much of the natural beauty and its surroundings, has been set aside and turned into parks and protected reserves to safeguard the spectacular environment and beauty, preventing deforestation and exploitation. This means that more than a quarter of Costa Rica has set aside for conservation.
Now 12 percent of the areas in Costa Rica are protected as national parks, and another 16% as biological reserves, wildlife refuges, protected areas and biological corridors. Costa Rica has about 27 national parks, 58 wildlife refuges, 32 protected areas, 15 swampy wetland areas, 11 forest reserves and 8 biological reserves, as well as 12 other conservation areas that protect the diverse natural habitats found throughout the country.
Costa Rica is home to 10,000 species of plants and trees, and at least 850 species of endemic and migratory birds, 205 species of mammals, 220 species of reptiles, 160 species of amphibians, about a 1013 species of freshwater and salt water fishes, and more than 35,000 species of insects. This diversity and richness of natural wildlife, makes Costa Rica a paradise.
Primary forests, rainforests, cloud forests, swamps, mangroves and coral reefs are just some of the habitats protected by Costa Rica national parks and reserves. Areas of geological and geophysical interest as active volcanoes, caves, areas of historical and
archaeological sites such as battlefields and Pre-Columbian settlements, areas of beautiful scenery such as beaches, waterfalls and important conservation areas for species such as the Brown Pelican (Pelecanus occidentalis) and the Magnificent Frigate (Fregata magnificens) nesting islands, or recent Mesoamerican dry forest left standing, or beaches where whales of the immense sea meet, are some of the sites are within protected parks and reserves in Costa Rica.
Some of the most popular parks in Costa Rica include the Poas Volcano National Park with its stunning crater and lake; Manuel Antonio National Park is definitely one of the most exuberant in Costa Rica, with spectacular white sand beaches bordered by the lush tropical jungle; Arenal Volcano National Park being the most active volcano in the country; the Tortuguero National Park, where thousands of turtles as the Green, the Leatherback and the Hawksbill Turtle, come to nest along the vast beach; the Chirripo National Park with the highest mountains of Costa Rica; Corcovado National Park, a pristine tropical jungle of undeniable beauty, considered one of the most biologically intense places in the world, as well as one of the most important natural resources of America; the Ballena Marine National Park, where visitors can see large populations of humpback whales and dolphins; and Cahuita National Park, one of the best areas for diving in the world thanks to the extraordinary spectacle of the coral reef and colorful fishes.
Most national parks and reserves in Costa Rica are easily accessible for visitors, where ecotourism is an important factor in generating the necessary funds to continue the protection of the wilderness. Below is a list of parks and reserves in Costa Rica that are running at the time by province:
San Jose National Parks:
Braulio Carrillo National Park
Chirripo National Park
La Cangreja National Park
Los Quetzales National Park
Cacyra National Wildlife Refuge
Fernando Castro Cervantes National Wildlife Refuge
Paramo National Wildlife Refuge
Steve Friedman National Wildlife Refuge
Surtubal National Wildlife Refuge
Cerro Las Vueltas Biological Reserve
Alajuela National Parks:
Arenal Volcano National Park
Juan Castro Blanco National Park
Miravalles Volcano National Park
Poas Volcano National Park
Tenorio Volcano National Park
Asis Project National Wildlife Refuge
Bosque Alegre National Wildlife Refuge
Caño Negro National Wildlife Refuge
Laguna Las Camelias National Wildlife Refuge
Maquenque National Wildlife Refuge
Alberto Manuel Brenes Biological Reserve
Arenal Volcano Emergency Zone Forest Reserve
Cerro El Jardin Forest Reserve
Children's Eternal Rainforest Private Reserve
Grecia Forest Reserve
La Cureña Forest Reserve
Heredia National Parks:
Braulio Carrillo National Park
Cerro Dantas National Wildlife Refuge
Jaguarundi National Wildlife Refuge
Tapiria National Wildlife Refuge
La Paz Waterfall Gardens Nature Park and Wildlife Refuge
Central Volcanic Cordillera Forest Reserve
Cartago National Parks:
Barbilla National Park
Chirripo National Park
Irazu Volcano National Park
Tapantí National Park
Turrialba Volcano National Park
Guayabo National Monument
Lankester Botanical Garden
Central Volcanic Cordillera Forest Reserve
Rio Macho Forest Reserve
Rio Pacuare Forest Reserve
La Marta National Wildlife Refuge
Puntarenas National Parks:
Carara National Park
Corcovado NationalPark
Cocos Island National Park
Manuel Antonio NationalPark
Ballena National Marine Park
Piedras Blancas National Park
Agua Buena National Wildlife Refuge
Baru del Pacifico National Wildlife Refuge
Carate National Wildlife Refuge
Cataratas Cerro Redondo National Wildlife Refuge
Curú National Wildlife Refuge
Cueva Murcielago National Wildlife Refuge
Donald Peters Hayes National Wildlife Refuge
Finca Hacienda La Avellana National Wildlife Refuge
Golfito National Wildlife Refuge
Hacienda Copano National Wildlife Refuge
La Ensenada National Wildlife Refuge
La Ceiba National Wildlife Refuge
Lagunazul National Wildlife Refuge
Osa National Wildlife Refuge
Pejeperro National Wildlife Refuge
Peñas Blancas National Wildlife Refuge
Playa Hermosa National Wildlife Refuge
Portalón National Wildlife Refuge
Platanares Preciosa National Wildlife Refuge
Punta Leona National Wildlife Refuge
Punta Rio Claro National Wildlife Refuge
Quillotro National Wildlife Refuge
Rancho La Merced National Wildlife Refuge
RHR Blancas National Wildlife Refuge
Rio Oro National Wildlife Refuge
Rio Piro National Wildlife Refuge
Romelia National Wildlife Refuge
San Lucas Island National Wildlife Refuge
Transilvania National Wildlife Refuge
Cabo Blanco Absolute Natural Reserve
Nicolas Wessberg Absolute Natural Reserve
Guayabo, Negritos and Pajaros Islands Biological Reserves
Guayabo Island Biological Reserve
Los Negritos Island Biological Reserve
Pajaros Island Biological Reserve
Caño Island Biological Reserve
Children's Eternal Rainforest Private Reserve
Monteverde Cloud Forest Reserve
Santa Elena Cloud Forest Reserve
Golfo Dulce Forest Reserve
Guanacaste National Parks:
Barra Honda National Park
Diria National Park (Diria National Forest Wildlife Refuge)
Guanacaste National Park
Las Baulas National Marine Park
Palo Verde National Park
Rincon de la Vieja National Park
Santa Rosa National Park
Bahia Junquillal National Wildlife Refuge
Camaronal National Wildlife Refuge
Cipanci National Wildlife Refuge
Costa Esmeralda National Wildlife Refuge
Curi Cancha National Wildlife Refuge
Dr. Rafael Lucas Rodriguez Caballero National Wildlife Refuge
Iguanita National Wildlife Refuge
Mata Redonda National Wildlife Refuge
Ostional National Wildlife Refuge
Tamarindo National Wildlife Refuge
Werner Sauter National Wildlife Refuge
Bolaños Island Biological Reserve
Lomas de Barbudal Biological Reserve
Taboga Forest Reserve
Limon National Parks:
Barbilla National Park
Cahuita National Park
Chirripo National Park
La Amistad International Park in Costa Rica
Tortuguero National Park
Aviarios del Caribe National Wildlife Refuge
Barra del Colorado National Wildlife Refuge
Corredor Fronterizo Costa Rica – Nicaragua National Wildlife Refuge
Dr. Archie Carr National Wildlife Refuge
Gandoca-Manzanillo Wildlife National Refuge
Limoncito National Wildlife Refuge
Central Volcanic Cordillera Forest Reserve
Hitoy-Cerere Biological Reserve
Pacuare Matina Forest Reserve
If you didnt find what you were looking for, you can try our Google custom search: