Tapantí National Park Costa Rica also called Orosi National Park, is located in the Pacific La Amistad Conservation Area of Costa Rica, on the edge of the Talamanca mountain range, tucked away to the south of the Orosi Valley and north of Cerro de la Muerte, near Cartago. It protects the watershed's forest, the forests to the north of Chirripó National Park and also part of the Orosi River.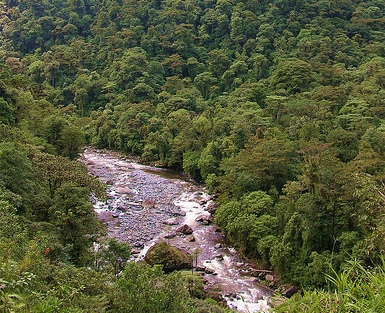 Costa Rica has a tremendous potential for hydroelectric power production because of the combination of its topography and numerous areas of high annual rainfall, which in fact is the source of more than 90% of the country's electricity. The upper Orosi River watershed is located in one of the rainiest parts of the country, receiving as much as 7m (330in) of rain per year. Given the relatively close proximity to the Central Valley it was only normal that the Costa Rican Electrical Institute (I.C.E.) should decide to develop a hydroelectric project in this forested region. And to be able to do so, meant first constructing a road into this previously inaccessible area. That's why in 1982, in addition to protecting the watershed's forest cover and preserving its wildlife from the destruction that would accompany colonization beside the new road, Tapantí was created as a National Wildlife Refuge, and in 1994 it gained the National Park status.
The park is crossed by the Rio Grande de Orosi, with nearly 150 rivers with fast-flowing streams and creeks joining the main river. Tapantí has two life zones – lower montane rainforest (lower mountain slopes) and premontane rainforest (lowlands skirting the lower slopes). This region of excessively damp climate, which ranges from hot to cool with average temperatures between 12°C and 19°C, provides shelter to innumerable forms of life.
Although originally created as a National Wildlife Refuge, Tapantí National Park is not an easy place to see mammals, even though many species inhabit the area. Observation of birds, butterflies and plant life will surely prove to be more rewarding. Birds are more obvious and over 260 species have been recorded, including the Resplendent Quetzal, Three-striped Warbler, the Common Bush-Tanager, goldfinch, sparrow hawks, toucans, doves, falcons, hawks, hummingbirds, parrots, etc. From the ranger's cabin, a quetzal nesting site can be seen. Others include both types of oropendolas, various woodpeckers and rarities such as Spotted Woodcreeper, Spangle-cheeked Tanager, the gaudy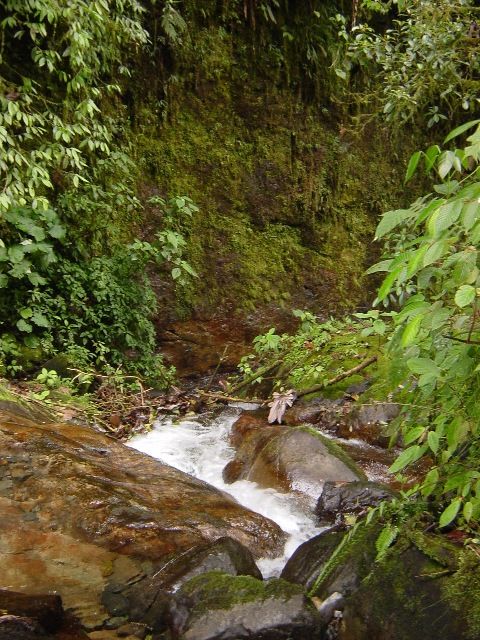 Redheaded Barbet, Spangledcheeked Tanager and Spotted Barbtail. Numerous varieties of hummingbird can be seen feeding on the flowering epiphytes.
The forest areas are characterized for their abundance of the epiphytes (plants growing on the trunks and branches of trees) found in this humid environment, with particularly abundant orchids at any time of year, these will provide the plant enthusiast with endless surprises. You can also see tree ferns, winter bark's tree, weetwood, lancewood, poro, oaks, magnolia, ira, poor man's umbrella, Gunnera, "lluvia de oro" (golden tear), Panama tree, cafecillo, lichens, lianas, palms, bamboo stands, bromeliads and mosses – which grow above 1,500 meters – to complete the biomass. In such a steep and rainy environment, the trees do not need to have deep roots to get water. As a result, they are easy victims of landslides and tremors, which are frequent in this river basin. If trees do not have deep roots, they cannot support thick branches and large crowns and therefore these forests are only of medium height.
Many mammals inhabit the park although, as usual, they are difficult to spot. Amongst the 45 species are Baird's Tapir, river otters, brocket deers, band-tailed pigeons, pacas, eastern cottontail, kinkajous, raccoons, mountain hare, agouties, jaguars, tiger cats, ocelots, jaguarundi, howler monkeys, white-nosed coaties, collared peccaries, tamanduas, three-toed Sloths, Silky Anteaters. There are over 20 species of reptiles in the park like basilisks, lizards and snakes, and over 28 species of amphibians, including toads, frogs and salamanders. The park is also home to a large variety of insects, many of which have never been properly registered. Keep your eyes open, because you might catch a glimpse of the thysania agripina, the largest butterfly found on the American continent.
The best time to visit is from February to the end of April. When visiting Tapantí, remember that mornings are pleasant and sunny, but soon clouds arrive and by midday the rain comes, so rainy-weather gear is advisable; a sweater or jacket will also be useful when the temperatures start to drop once the sun goes behind clouds. A number of well-marked trails start at the ranger station, which also has a small nature display and gift shop. The Oropendula and Pantanoso trails lead to a swimming area with picnic tables and grills, while La Parva trail takes you to a couple of waterfalls, the Salto and Palmitas. There is also the "Arboles Caidos Trail" which is a heavily forested nature hike. The La Esperanza de El Guarco Biological Station, operated by InBio is in Tapantí National Park. It has lodging for up to 15 people with water, restrooms, showers and electricity.
Getting to Tapanti National Park:
Take the road from San Jose to Cartago. Continue to Paraiso, Orosi and Rio Macho until you get to Tapanti. The road is passable all year round and is suitable for all types of vehicle.
To reach the La Esperanza station, take the road from San Jose to Cartago, and then take the exit for the Cerro de la Muerte, until you get to Tapanti National Park. This sector is not always open, so calling previously is recommended.
By bus
Take a bus from the route San Jose – Cartago, which takes about 1.5 hours (Lumaca S.A., 2537-0347) and then take another bus Cartago – Orosi – Río Macho, which takes about 1 hour (Auto Transportes Mata, 2533-1916). From here you can take a taxi to Tapanti National Park, which takes about 10 minutes.
You can also take a bus from the route San Jose – San Isidro de El General – Perez Zeledon which takes about 2 hours, making the stop at Macho Gaf Restaurant (MUSOC, 2222-2422 / TRACOPA, 2222-26-66). From here you can take a taxi to Tapanti National Park. We recommend buying the ticket a day earlier to be sure your seat is saved.
Main entrance location: 27km (16 miles) southeast of Cartago, Tapanti, district: Orosi, canton: Paraiso, province: Cartago. Zone postal code: 30203.
Rio Macho GPS Coordinates: 9.783258,-83.844753 (9°46'59.73″N, 83°50'41.11″O)
Size: 6080ha (15,023 acres)
Altitude: from 1220m (4000ft) rising to 2560m (8,400ft)
Schedule: the ranger station at Tapanti is open from 8 a.m. to 4 p.m.
Tapanti National Park Telephone: +(506) 2206-5615
Pacific La Amistad Conservation Area (ACLA-P) Telephone: +(506) 2771-4836 / 2771-3155
INFOTUR Tourist Information: 1192
Address map: Click here to view directions from Juan Santamaria International Airport (SJO), Alajuela, Costa Rica TO Tapantí National Park in Cartago, Costa Rica at Google Maps
If you didnt find what you were looking for, you can try our Google custom search: