Theaters in Costa Rica: if you click on top of the name of each theater, the link will take you to a page dedicated to your selection, with information, location, GPS coordinates, address maps, phone numbers, schedule, website, photos.
Haga click en el siguiente enlace para leer está página en Español: Teatros en Costa Rica
Theaters in San José:
National Theater, 2nd Avenue, 3rd and 5th St., San José. Phone: 2221-5341
Melico Salazar Theater, 2nd Avenue, Central and 2nd St., San José. Phone: 2233-5172
National Auditorium, Children's Museum in San José. Phone: 2222-7647
Oscar Fessler Theater (National Theater Workshop), in Barrio Escalante, San José. Phone: 2221-1273
Arlequín Theater, Central and 2nd Avenue, 13 St., San José. Phone: 2221-5485
Chaplin Theater, 12th Avenue, 11th and 13 St., San José. Phone: 2221-0812
Del Ángel Theater, Central Avenue, 13th and 15 St., San José. Phone: 2222-8258
De la Danza Theater, 3rd and 7th Avenue, 11th St., San José. Phone: 2222-2974
El Triciclo Theater, 8th and 10th Avenue, 15th St., San Jose. Phone: 2222-2624
San José Theater, 8th and 10th Avenue, 15th St., San José. Phone: 2222-2624
Vargas Calvo Theater, Central and 2nd Avenue, 5th St., San José. Phone: 2222-1875
La Aduana Theater, 7th and 9th Avenue, 25th St., San José. Phone: 2257-8305
La Comedia Theater, Central Avenue, 11th and 15th St., San José. Phone: 2233-2170
La Esquina Theater, 1st Avenue, 21st St., San José. Phone: 2257-0223
La Máscara Theater, 2nd and 4th Avenue, 13th St., San José. Phone: 2222-4574
Laurence Olivier Theater (Garbo Theater), 2nd Avenue, 28th St., San José. Phone: 2222-1034
Lucho Barahona Theater, 6th and 8th Avenue, 11th St., José. Phone: 2223-5972
1887 Theater, 3rd and 7th Avenue, 11th St., San José. Phone: 2257-5524
Molière Theater, 2nd and 4th Avenue, 13th St., San José. Phone: 2222-5281
Sala de la Calle 15 Theater, 2nd Avenue, 15th St., San José. Phone: 2223-7482
Torres Theaters, 8th Avenue, 11th and 13th St., San José. Phone: 2256-4295
Variedades Theater, Central and 1st Avenue, 5th St., San José. Phone: 2222-6108
Giratablas Theater, in front of KFC, Barrio La California, San José. Phone: 2253-6001
Eugene O'Neill Theater, 1st and 3rd Avenue, 37th St. in Barrio Dent, San José (Costa Rican North American Cultural Center). Phone: 2207-7554
Theaters in the Central Valley:
Bellas Artes Theater, Arts School at the University of Costa Rica, San Pedro.. Phone: 2207-4095
Montes de Oca Theater, University of Costa Rica, San Pedro. Phone: 2207-4595
Espressivo Pinares Theater, Momentum Pinares Mall in Curridabat. Phone: 2217-0905 / 2271-0910
Mozart Theater, San Francisco de Dos Ríos, San José. Phone: +506 2250-5000
Abya Yala Theater, at Fanal towers in San José. Phone: +506 2297-1663
Castella's Conservatory Theater, next to the Datsun Agency in North Sabana. Phone: 2232-0265
Dionisio Theater from Britt Coffee, Britt Coffee road to Barva, Heredia. Phone: 2277-1600
Alajuela Municipal Theater, Northwest Coast Juan Santamaría Park in Alajuela. Phone: 2436-2362
Theaters in Puntarenas:
Aspinall-Murray Cultural Theater, Cerro Plano in Monteverde, Puntarenas. Phone: 2245-5003
Dominical Little Theater, Costa Ballena in Dominical, Puntarenas. Phone: 2787-8007
Theater in Costa Rica:
Cultural activity began to flourish during the past 100 years, and the theater has been no exception, as it was developed intensively during this period. In the beginning, the theater was based in the Costa Rican religious traditions, in their customs and historical themes.
Ricardo Fernández Guardia (Magdalena, 1902) and Carlos Gagini, are the ones who
developed the first models of dramatic representation of language and life in Costa Rica. Next, the drama focuses on the social drama, such as the play "María del Rosario" (Mary of the Rosary) by Daniel Ureña, and "El pobre manco" (Poor-Handless) by Gonzalo Sánchez Bonilla. Another emerging trend focused on the themes of love and marriage from a perspective that internalizes the social and ideological problems. Some of them were "Cuento de amor" (Love Story) by Ernesto Martén and "La última cena" (The Last Supper), "El retorno" (The Return) and "¡Nada! "(Nothing!) by José Fabio Garnier between 1921 and 1929.
"El combate" (The Fighting) in 1914 by Eduardo Calsamiglia, is the work of the Costa Rica period that most closely matches the traditional rules of that kind of dramatic works and a better built, structured and developed.
The playwrights of the second decade of the twentieth century defined in part by a perception of reality as to what art is concerned. Aestheticism is, modernist heritage, what they assume as a form of protest against society. Being Héctor Alfredo Castro Fernández, a playwright apart from regionalism and influenced by the European vanguard, one of the most important that writes about fifteen dramatic pieces, mostly in French.
Other authors were more conservative, relegating women to subordinate roles to men and a patriarchal role. In general, the Costa Rican scene stayed away during those years of news from Latin American independent drama, popular or experimental. On the other hand, it rejects all forms of irrationalism and insists on leading the viewer at all times. These are ways of running traditional theatrical aesthetic, far from the theater and theater surreal absurdity that occurred in other countries at the same time.
After a several decades gap, appears an upsurge in production and theater in the country. In the group of writers born between 1920 and 1934, was born a group of playwrights known as Alberto Cañas: "La segua" (The Segua) and "El luto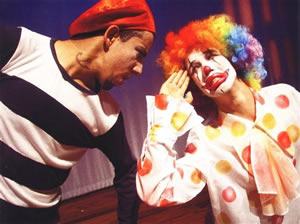 robado" (The Mourning Stolen) (1962), Daniel Gallegos: "En el séptimo círculo" (In the seventh circle) ( 1982), "La casa" (The House) (1972) and "La colina" (The Hill) (1968) and Samuel Rovinski "Un modelo para Rosaura" (A model for Rosaura) (1974), "Las fisgonas de Paso Ancho" (The Paso Ancho Snoopers) (1971) and "El martirio del pastor" (The Pastor Martyrdom) (1983). Theater written by these authors can be understood within certain topics, especially politics and social criticism, and on the other hand, the existentialist themes. This is compounded by the knowledge shown by the playwrights of the techniques and directions in contemporary theater, for example, surreal drama and absurd theater.
The resurgence of dramatic writing in these years was due to the very important work of playwrights and innovative activity, studied recently, by numerous groups, directors, actors and companies. The Costa Rican scene was renewed after the boom of the early decades of the century, that had being declined significantly since 1930.
Like the narrative of this era, part of a theatrical production shows special concern for cultural identity, which usually manifests itself in choosing a historical theme: Lupe Pérez Rey: "Pancha Carrasco reclama" (Pancha Carrasco Calls) (1988), "Aguirre, yo rebelde hasta la muerte" (Aguirre, I rebel until death) (1991), Tatiana Lobo: "El caballero del V centenario" (The V Centennial Gentleman) (1989), Juan Fernando Cerdas: "Juana de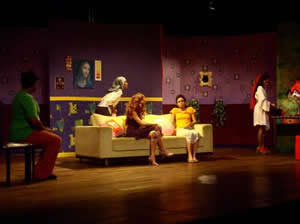 Arco" (Joan of Arc) (1986) and "1856" (1984). Moreover, the issue of time by Fernando Durán: "Billy Come Back" (1994) and the relationship between social classes by Quince Duncan: "The Trepasolo" (1989).
It is perhaps in these years when the Costa Rican theater assumes a known function in other areas, as activation of the political role of language and representation. Some of these works were seen by viewers of the time as the true representative of the concerns of their generation.
Currently, the public delight in comedy about current political or social events, traditional or contemporary, to be played in an amazing variety of theaters, some impressive like the National Theater and the Melico Salazar Theater, some picturesque and some simpler.
If you didnt find what you were looking for, you can try our Google custom search: