This small theater was founded by a group of independent artists. The idea behind the creation of this theater was to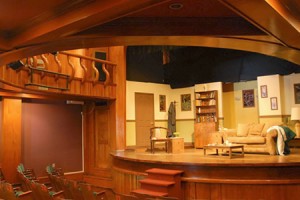 provide a forum for presenting original works from Costa Rica. Today, this theater offers a variety of functions each week, usually with a satirical humor related to the Costa Rican society.
The theater offers a small Café where you can enjoy a delicious Costa Rican coffee during the intermission.
Address: next to Mas x Menos supermarket on Central Av., between 11 and 15 St., district: Carmen, canton: San José, province: San José, Costa Rica. Zone postal code: 10101.
GPS Coordinates: 9.933506,-84.073711 (9°56'00.62″N, 84°04'25.36″W)
Schedule: From Thursday to Saturday from 6 p.m. to 9 p.m.
Phone:+506 2233-2170
Address map: Click here to view directions from La Sabana Park, San Jose, Costa Rica TO La Comedia Theater in San Jose, Costa Rica.
If you didnt find what you were looking for, you can try our Google custom search: