Torres theater is recognized not only for being the only theater with VIP, but also for specializing in customer satisfaction. Under the leadership of the beloved actress Maria Torres, remembered for her work on the television program "Caras Vemos", alongside with Marcia Saborío. Now she works with great success setting world renown plays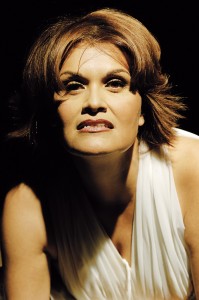 in her own theater. For Torres, the opening of her own theater, in 2003, has been the greatest experience of her career as an actress.
The theater has capacity for 153 people, 133 of which will be comfortably seated in the audience and 20 in what has been designated as the VIP lounge (for very important people), this is an area which has armchairs with two places and tables, bathroom and is the only place in the theater where you can consume liquor and food during the function.
"We want this space to be open to the public from Monday to Monday with alternative theater, forums, dance, concerts and music. Also, the Torres Theater offers the potential to make presentations, force sales events and special business events. It will also conduct makeup seminars and theater courses for adults and children", said the actress.
The theater has a Home Teather sound with eight speakers. For the opening, Torres began assembling the stage with the play "Tras de palo, cuernos", the first one she wrote 14 years ago.
In addition, from October 2009, Torres opened a new theater: the Torres Theater 2, also in San Jose, and as well promoted by the Valverde Torres Productions company. This theater has bathrooms and special seats for disabled people, 132 seats in the pit and 20 preferential (VIP) with the latest technology. Furthermore, as a novelty, the new theater made available to the public a childcare service, which has closed circuit monitoring and capacity for ten children.
This center will provide care for both theaters and was born because "many parents stopped going to see plays because they didn't have trustworthy people to take care of their children to attend functions," said Johanna Valverde, co-owner of the project.
Torres Theater is located 175 west of the Santa Rita clinic or from La Casa del Tornillo at Paseo de los Estudiantes, 125m east, next to the Musical Parking in San José, and Torres Theater 2 is located in 8 Avenue, also in San José.
Address: in 8 Av., between 11 and 13 St., district: Catedral, canton: San Jose, province: San Jose, Costa Rica. Zone postal code: 10104.
GPS Coordinates: 9.930192,-84.073858 (9°55'48.69″N, 84°04'25.89″W)
Schedule: From Thursday to Sunday at 8 pm.
Phone:+(506) 2256-4295 / 2258-6078
Address map: Click here to view directions from La Sabana Park, San Jose, Costa Rica TO the Torres Theater in San Jose, Costa Rica.
If you didnt find what you were looking for, you can try our Google custom search: