Haga click en el siguiente enlace para leer está página en Español: Teatro Arlequín de Costa Rica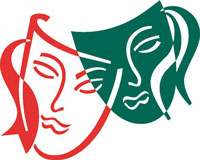 In 1972 the Arlequín (Harlequin) Theater was reaffirmed as one of the most important theater groups in Costa Rica. Its first work was "La vida es un sueño" (Life is a dream). Later, that same year, the group announced the construction of their own "Chamber Hall". As the first offering at its new home, the production of the Arlequín presented "The Toothbrush" (El Cepillo de Dientes) by Jorge Diaz, which was a full success night after night.
The theater enjoyed a great year in 1973. The main groups of all programs, set up and provided the public with a variety of options worthy of praise. During 143 days, of 194 days of the season, the new Arlequín Theater stayed busy. Almost 10,000 performances to see five of its productions were shown through the small Arlequín Theater scene.
Since in 1973, Arlequín was kept busy with the opening of six plays, including "The ginecomaquia" (La ginecomaquia) or "The Struggle of Women" (La lucha de las mujeres) by the Mexican author Hugo Hiriart. For 1975, the Arlequín theater had managed a repertory that included more than 15 plays.
Perhaps this is the most important theater group of the country with over 250 shows, its permanence and continuity has helped start a theater with a tradition of high quality drama for the benefit of Costa Rica.
For reservations: call from Friday to Sunday after 12pm.
Address: on 13 street, between central and 2nd avenues, district: Catedral, canton: San José, province: San José, Costa Rica. Zone postal code: 10104.
GPS Coordinates: 9.932994,-84.073081 (9°55'58.78″N, 84°4'23.09″W)
Phone:+506 2221-5485
Address map: Click here to view directions from La Sabana Park, San Jose, Costa Rica TO the Arlequín Theater in San Jose, Costa Rica.
If you didnt find what you were looking for, you can try our Google custom search: