La Aduana (Customs) Theater frequently presents and organizes dances and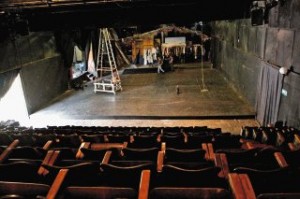 plays, and it is also the home of the National Theater Company. It is now temporarily in the building assets of the Former Customs, which until recently operated the offices of the National Institute of Housing and Urban Development (INVU in Spanish).
The reason for moving the theater and offices of the CNT (National Theater Group) is the beginning of the restoring process of the heritage buildings of the "Casa del Cuño", where the theater operates. This new hall will be used for a short period, because we trust that the company releases its new theater in February 2010.
Both the size of the stage, as the amount of space available to the public in the temporary theater will be similar or even with more capacity than the available at La Aduana Theater. The plays that will be presented in this temporary place will be: "Figueroa" by Jorge Arroyo and the winner of the contest of the CNT.
Address: Behind Fercori, in Barrio La California, between 7 and 9 Av., 25 St., district: Carmen, canton: San Jose, province: San Jose, Costa Rica. Zone postal code: 10101.
GPS Coordinates: 9.934578,-84.066781 (9°56'4.48″N, 84°04'00.41″W)
Phone:+506 2257-8305
Address map: Click here to view directions from La Sabana Park, San Jose, Costa Rica TO La Aduana Theater in San Jose, Costa Rica.
If you didnt find what you were looking for, you can try our Google custom search: