RHR Blancas Wildlife Refuge Costa Rica created on July 26th, 1995 to protect forested and beach areas on the Golfo Dulce,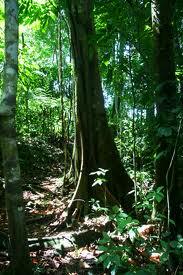 Pacific Coast of Costa Rica.
The refuge is part of the Osa Conservation Area, southern Costa Rica near the town of La Gamba, so the average annual temperature is around 26ºC (80ºF), and humidity is maintained at relatively high levels, allowing the growth of a variety of ferns.
The RHR Blancas National Wildlife Refuge form and ensures a biological corridor and ecological diversity in the Golfo Dulce (Sweet Gulf). With its lush tropical rainforests and the many native plants and wildlife, the refuge also protects the north of the Golfo Dulce, beaches and bays.
With its dense forest, this refuge is essentially evergreen primary forest, which is also the habitat of many native trees and plants, as well as various animals such as sloths, monkeys, agoutis, peccaries, jaguars, parrots, macaws, toucans, trogones. There are also many beautiful waterfalls and rivers along the trails, beautiful beaches and a coral reef on the coast.
There are no public facilities at RHR Blancas National Wildlife Refuge. Other nearby Costa Rica Parks include Piedras Blancas National Park, Golfo Dulce Forest Reserve, Golfito National Wildlife Refuge, Quillotro National Wildlife Refuge and Corcovado National Park.
Getting to RHR Blancas Wildlife Refuge:
From San Jose, take the Pan-American Highway south towards Panama. At the town of Rio Claro, take the exit to Golfito. The total distance is 342km (212 miles). The refuge can be accessed via the Torres Rd. (Calle Torres) near the cemetery or behind Banco Nacional – drive up to the steep, take the exit to the left and access the hiking trail on the right side of the road. It might be best to park in town and walk up to the trailhead or pay a local to park at their home to watch your car and personal belongings. Now you can also take the new Caldera Highway to Puntarenas and then follow the Costanera Highway until you get to Golfito.
By bus
Take a bus from the route San Jose – Golfito, which takes about 8 hours (Tracopa-Alfaro, 2221-4214). From here you can rent a car and drive or take a taxi to RHR Blancas Wildlife Refuge, which takes about 15 minutes. We recommend buying the ticket a day earlier to be sure your seat is saved.
By plane:
You can also take a flight from the Juan Santamaria Airport to the Golfito Airport, either with Sansa or Nature Air airlines, both with daily flights. From here you can rent a car and drive or take a taxi to RHR Blancas Wildlife Refuge, which takes about 15 minutes.
Location: in Osa Peninsula southern Puntarenas, Costa Rica
La Gamba GPS Coordinates: 8.708611,-83.184517 (8°42'31.00″N, 83°11'4.26″W)
Size: 60 ha (146 acres)
Osa Conservation Area (ACOSA) Telephone: +(506) 2735-5580 / 2735-5276
INFOTUR Tourist Information: 1192
Address map: Click here to view directions from Juan Santamaria International Airport (SJO), Alajuela, Costa Rica TO Golfito, Puntarenas, Costa Rica at Google Maps
If you didnt find what you were looking for, you can try our Google custom search: