Arenal Volcano National Park Costa Rica: created on November 6th, 1991, in order to protect and conserve forest areas surrounding the slopes of Arenal Volcano, part of the Arenal Huetar Norte Conservation Area, located in the northern part of Costa Rica, between the foothills of the Tilarán Mountain Range and the plains of San Carlos in Alajuela Province. The park is also an important watershed of several rivers and streams that flow into the Arenal Lake Reservoir, such as the Chiquito, Peñas Blancas y Frío rivers, among others. Water from here is the country's most important source of hydroelectric power, used for satisfying the electricity demand of the inter-connected national system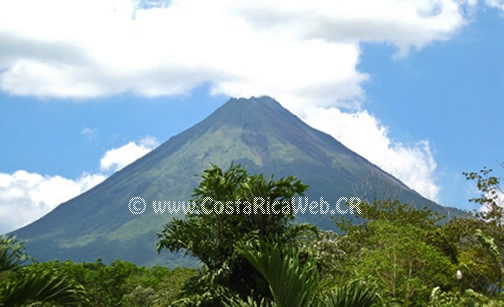 and the Guanacaste irrigation projects. In fact it supplies 12% of the country's hydroelectric energy.
Undisputedly the most characteristic feature of this national park is the impressive and majestic Arenal Volcano, considered Costa Rica's, if not the world, most active volcano, whose regular eruptions offer one of the most extraordinary and amazement natural highlights in Costa Rica.
The Arenal has been studied by seismologists for many years and is estimated to be less than 3,000 years, geologically considered a young volcano. Rising to 1633m (5358ft), Arenal is everyone's idea of what a volcano should look like, with its perfect conical shape and frequent spectacular activity allows breathtaking views of volcanic action in the summit, making it one of the country's foremost tourist attractions. Although the activity nowadays is lower, you can still see ash columns, glowing orange lava flows with sudden explosions, listen underground rumbling, and also, almost every night the crater offers a spectacle of lights with its explosive eruptions.
Needless to say, it is extremely dangerous to walk anywhere near the summit, with its crater some 150m (492ft) deep and the eruptive activity highly unpredictable as it has periodic eruptions of ash and molten rock, accompanied by thundering sonic blasts. However, it is possible to hike around the base, but most tours view the volcano from the west side, where there are fresh lava flows. The summit is often covered in cloud during the day, particularly during the wet season, but become extremely spectacular after dark, with glowing lava flows and red igneous rocks ejected with each eruption trace fiery arches in the night sky before crashing down on the steep slopes and finally extinguishing themselves rolling down the sides, adding to the natural fireworks display between the frequent eruptions.
The park also has a second volcano called Chato, also called Cerro Chato (literally Mount Chato), which has an extinct crater which houses a lagoon full of water with a stunning view of reaching 1100m at the top of Arenal. This one has been inactive for around 3500 years – coinciding with the creation and growth of Arenal itself.
Most of the streams flowing off the flanks of Arenal Volcano have been naturally heated and are often full of beneficial minerals. At Tabacon thermal spa, a valley has been converted into a complex of eight pools of various temperatures ranging from 27°C (80°F) to 39°C (102°F).
The settlers that colonized this region in the early part of the 20th century referred to Arenal Volcano as "the mountain" and apparently, despite its conical shape, did not realize it what was it. The volcano was asleep for hundreds of years and exhibited a single crater at its summit, with minor fumaroles activity, covered by dense vegetation. But, on July 29th, 1968, an earthquake blew the top off and the dormant volcano exploded, opening three craters to the west side and producing a cloud of hot volcanic gases, covering several square kilometers with lava and destroying the small towns of Tabacón and Pueblo Nuevo, where some 87 people lost their lives, along with thousands of cattle.
In September of the same year, "Crater A" began again to emit lava, and remained the most active crater until 1973. In 1973, activity migrates to the crater C, better known as the Arenal volcano, which has remained active, but fortunately at a level posing little threat to visitors, with large eruptions in 1973, 1975, 1993, 2000, 20003 and 2005. This one is characterized by lava that is of an andesite basaltic composition, with explosions that contain pyroclastic materials and gas emissions.
The Arenal Volcano National Park receives from 3500mm to 50000mm (138 to 197 inches) of rain per year, as both the Pacific and Atlantic oceans influence its weather patterns. Even when it isn't raining, clouds often gather around the volcano's peak, obliterating a full view of the mountain. At lower elevations within the temperatures are warm during the day, but can get chilly at night, especially if there is a breeze. The temperature varies from 16°C (61°F) in the high areas to 24°C (75°F) in the low. The rainy season lasts from May to January, while the dry season runs from February to April.
The Arenal Volcano National Park is a living laboratory, given its geological and geomorphological richness and its complexity in the development of biological processes. This impressive volcano is surrounding by a pioneer vegetation, primary cloud forest and rainforest which abounds with flora and fauna species in multiple life zones, innumerable rivers, waterfalls and thermal hot springs.
The four most important types of vegetation in the park are the perennial wet and very wet forests that cover about 47% of the area. There's also cloud forest and riverine woodlands, where several endemic species can be found, like the Cedrillo (Brunellia costaricensis) and the Pitcaimia Funkiae bromeliad, as well as Sura (Terminalia oblonga), Java kapok or Silk cotton (Ceiba pentandra), Cirri (Mosquitoxylum jamaicense), Ecuador Laurel or Salmwood (Cordia alliodora), West Indian Laurel Fig(Ficus americana) and various species of ferns, palms, orchids and bromeliads. Also, this area offers a unique opportunity to witness the early stages of lava flow colonization by a handful of plant species adapted to the task.
For obvious reasons, there is little vegetation or wildlife in the way of the immediate vicinity of the volcano since the effects of the major devastating eruption of 1968 are only slowly being overcome, but there is plenty to be seen in the forested fringes of the park. A good range of wildlife is guaranteed, as some 131 known species of mammals can be found here such as howler, spider and white-faced monkeys, tapirs, coatis, peccaries, deer, Spotted Pacas and jaguars, amongst others. Here visitors can also find 135 species of reptiles that include tortoises, lizards and snakes such as the Fer-de-lance or Terciopelo (Bothrops asper) and Side-striped Palm-pitviper (Bothriechis lateralis), as well as 35 species of fish. In the other hand, an amazing 53% of the species that make up the national bird population such as Blue-grey Tanager (Thraupis episcopus), Cherrie's Tanager (Ramphocelus costaricensis), Summer Tanager (Piranga rubra), Buff-throated Saltator (Saltator maximus), Three-wattled Bellbird (Procnias tricarunculata), Rufous-tailed Jacamar (Galbula ruficauda), Rufous Motmot (Baryphthengus martii) and also including the endangered Resplendent Quetzal (Pharomachrus mocinno) can be found inhabiting the area, as well as various woodpeckers, parrots, toucans, orioles, magpies, parakeets, hummingbirds and many others, making this park and the surrounding area a truly birdwatcher's paradise.
Within the Arenal Volcano National Park, short trails (3.4 km and 2 km) pass through both secondary forest and lava fields from previous eruptions, which include the dormant Volcano Chato to the southeast of Arenal. The park rangers keep a close eye on the volcanic activity, and will not hesitate to close trails or portions of the park if they feel that it is unsafe.
A particularly recommended tour is to the Arenal Hanging Bridges, a 3km (2 mile) hike through the rainforest involving crossing 15 suspension bridges varying in length from 5m to 100m (16 to 330ft), often at canopy height. Also, at Lake Arenal you can practice some water sports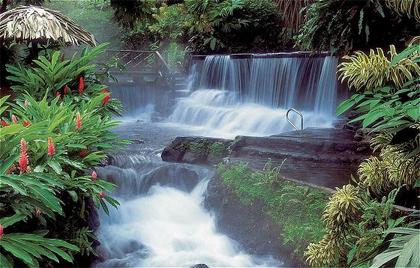 such as fishing and kayaking. Also, night walks are a specialty in the area.
This important national park has also an Emergency Zone Forest Reserve created on October 14th, 1972 for protecting the forest areas in the emergency zone of Arenal Volcano. However, this area is not open to the public.
The site has accommodation in the form of the Arenal Observatory Lodge and the Museum of Vulcanicity, as well as a ranger station. Also the visitor's center near the Arenal volcano has the viewpoint La Peninsula at the foot of Arenal Volcano, an auditorium, an exhibition hall, a souvenir store, restrooms and parking lot. Other nearby Costa Rica parks includes Arenal Volcano Emergency Zone Forest Reserve, Juan Castro Blanco National Park, Alberto Manuel Brenes Biological Reserve and Tenorio Volcano National Park.
Getting to Arenal Volcano National Park:
The fastest way to get to Arenal Volcano National Park from San Jose is by taking the Pan-American Highway west to the town of San Ramón and following the road north through Angeles, La Tigra and Chachagua to La Fortuna. Drive west out of La Fortuna, the road will take you 180 degrees around the volcano to the park ranger station. However, this route is not always available due to the rains, so be sure before you take it. Driving time from San José is about 4 hours.
You can also take the Pan-American Highway to Naranjo and follow the road through the towns of Zarcero and Ciudad Quesada to La Fortuna. Drive west out of La Fortuna, the road will take you 180 degrees around the volcano to the park ranger station. Driving time from San José is about 4 hours.
From Liberia (Daniel Oduber Airport), equally scenic, take the road heading towards the city of Liberia. At Liberia's intersection take the Pan-American Highway to Cañas and then drive up into the hills to the town of Tilarán and follow Lake Arenal around its northern shore to the base of the volcano. Driving time from Liberia is about 1.5 hours.
By bus:
You can take a bus San José – La Fortuna which takes about 4 hours (Auto Transportes San José-San Carlos, +506 2256-8914). You can also take a bus From Ciudad Quesada to La Fortuna (Transpisa, +506 8379-3153) which takes about 1.5 hours.
By plane:

You can also take a flight from the Juan Santamaria Airport to La Fortuna Airport, either with Sansa Airlines or Nature Air every day. From here you can rent a car and drive to the refuge, which is about 15 minutes.
Location: 15km southwest of La Fortuna in San Carlos, Alajuela, Costa Rica.
GPS Coordinates: 10.461577, -84.739702 (N 10 27.695, W 84 44.382)
Size: 12,124 ha (29,945 acres)
Altitude: from 300m to 1633m (985ft to 5357ft) above sea level
Schedule: from 8 a.m. to 6 p.m.
Arenal Volcano National Park Telephone: +506 2461-8499
Arenal Huetar Norte Conservation Area (ACA-HN) Telephone: +506 2460-0055
INFOTUR Tourist Information: 1192
Click here to view directions from Juan Santamaria International Airport (SJO), Alajuela, Costa Rica TO Arenal Volcano National Park in Alajuela, Costa Rica at Google Maps
If you didnt find what you were looking for, you can try our Google custom search: