Location: 20 km (13 miles) from the city of Siquirres, in Brisas de Pacuarito town, in the limit between the provinces of Cartago and Limón, Costa Rica.
Siquirres GPS Coordinates: 10.09475,-83.510267 (10°05'41.10″N, 83°30'36.96″W)
Size: 11,994 ha (29,500 acres)
Altitude: from 110 m to 1,617 m (5,300in) at Cerro Tigre
Schedule: from 8 a.m. to 4 p.m.
Subregional office of the Area of Conservation in Siquirres Telephone: +506 2768-8603
Caribbean La Amistad Conservation Area (ACLA-C) Telephone: +506 2795-1446
INFOTUR Tourist Information: 1192
Address map: Click here to view directions from Juan Santamaria International Airport (SJO), Alajuela, Costa Rica TO Brisas de Pacuarito (limit between Cartago and Limón), Costa Rica at Google Maps
Barbilla National Park Costa Rica was created first as a biological reserve on March 16th 1982, to protect forests and wet tropical lowland rainforests of the Caribbean slope of the Talamanca Mountain Range, declared a national park on January 14th, 1998. Its part of the Talamanca – La Amistad Biosphere Reserve declared by UNESCO in 1982 in order to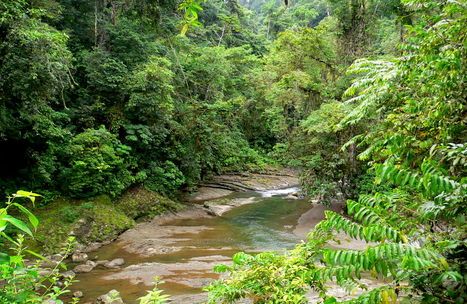 protect important ecological systems in the country.
The park is also home to the Cabécar, the second largest indigenous group in Costa Rica, which has a rich culture and history. Their main livelihood is hunting and fishing, along with the planting of bananas, yucca and grains. In fact, it is located next to the Chirripo Indigenous Reservation, which continues to give the traditional modest existence.
The main objective of the Barbilla National Park is to provide protection for a large area of Tropical Rain Forest in pristine condition, where there is a great diversity, due to its physiographic and climatic characteristics, as well as suitable conditions for the establishment of a wide number of flora and fauna such as pumas, jaguars, ocelots, tolomucos (Eira barbara), tapirs, monkeys and lots of bird species, many of them endangered. Rare species of birds like the heron can also be observed here, making the park popular for birdwatchers.
The park also protects Dantas River Basin, the Dos Ramas Sector, Ayil Lagoon and Cerro Tigre, being its highest point. The Barbilla National Park is almost entirely covered in lowland tropical rainforest comprising species such as the banak (Virola sebifera) and the palm (Astrocaryum alatum).
The area is very wet with a large number of rivers which rise there and flow into the Pacuare River, sheltering a large primary tropical wet forest and tropical very wet forest, making the park's territory an important water resource of vital interest to supply potable water to neighboring communities and animals.
This is one of the least visited of Costa Rica's national parks, therefore, has the distinction of being both relatively intact and ecologically rich. Rugged hiking trails roughly following the Dantas and Barbilla rivers are the main attraction in the park. The area is very ravine with rain fall averages of 3,500 mm to 4,00 mm anually (140in to 180in), which makes it necessary to maintain the forest cover to prevent the rapid erosion caused by heavy rains.
The Park has the Barbilla Biological Station administered by the National Biodiversity Institute, as well as an administrative building with potable water, sanitary services, electricity and a system of radio communication, located in Brisas de Pacuarito town, which research efforts are focused on classification of species and insect parataxonomy.
Located some 20 kilometers from the city of Siquirres, the park is difficult to access. For this reason, and because necessary facilities are not available, visits are only recommended for those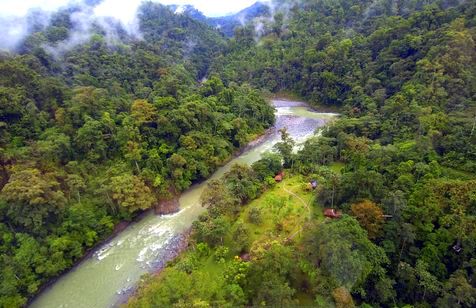 accustomed to hiking under this conditions and should be led by local guides. Other nearby parks include Pacuare River Forest Reserve and La Amistad International Park.
Getting to Barbilla National Park:
From San Jose take the Guapiles-Limon road (road #32), passing through the Zurqui tunnel and the Braulio Carrillo mountains. It is likely that you will encounter fog and rain. Please drive with your lights on. After the mountains the road to Limon is practically straight with no hills. Take the Siquirres turn-off. The main entrance is located 3 km (2 miles) from the city of Siquirres. After turning off the highway, follow a rough dirt road for 17 km (10 miles) to the town of Brisas de Pacuarito. A 4 wheel drive vehicle is recommended. The park has very few services, with limited navigational road signs, and it is advised to bring a local guide with you.
Please note that if you have not left San Jose by 2 pm you will be driving part of the way at night. We do not recommend this for first time travelers driving in Costa Rica. Roads do not have lines, and rain can be bad and there are potholes and people walking/cycling that you might not see very well.
By bus
Take a bus from the route San Jose – Siquirres, which takes about 1.5 hours (Transportes Caribeños, +506 2222-0610 / +506 2221-7990 / +506 2768-9484). From here you can rent a car and drive or take a taxi to Barbilla National Park, which is about 20 minutes.
By plane:
You can also take a flight from the Juan Santamaria Airport to the Siquirres or Barra del Parismina airports, either with Sansa, TravelAir or Nature Air airlines, all with daily flights. From here you can rent a car and drive or take a taxi to Barbilla National Park, which takes about 15 minutes.
If you didnt find what you were looking for, you can try our Google custom search: