Chirripó National Park Costa Rica is one of the Costa Rica's wilder parks which protect a number of important ecosystems. Chirripó refers to both the name of the highest mountain in Costa Rica, which reaches 3820m (12,533ft), and the name of one of the National Parks. Chirripó takes its name from the Talamanca Indian word meaning "Place of Enchanted Waters". The park is located approximately 30 km northeast from the city of San Isidro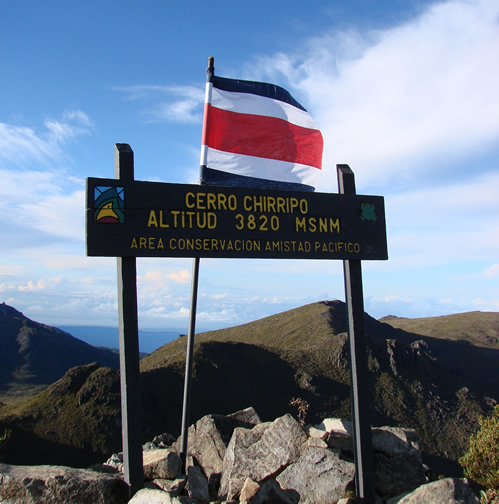 del General, which covers 50150ha (123,918acres). This park include parts of San Jose, Limón and Cartago, three provinces in Costa Rica, and contains miles of trails that wind through more ecological zones than you will find in most entire countries, in fact, five different ecosystems are differentiated largely by altitude like the lowland tropical wet forest, premontane tropical wet forest, lower montane wet forest, montane wet forest and subalpine wet forest (páramo, a strange area of high moorland with clumpy grassland and stunted dwarf trees, a habitat that is vulnerable to fire caused by the drying winds). At lower levels, there are oak, mixed and cloud forest sections, with an understorey of ferns and bamboo, which are rich in flora and fauna. The park climate has only two seasons, a dry one approximately from December to April and a wet one from May to November.
Chirripó was considered a sacred mountain by the pre-Colombian Indians, although it is believed that only the tribal leaders and shamans were allowed to the summit. In fact, some curious rock formations known as Los Crestones were treated as a shrine. Some 25000 years ago the summit was covered with glacial ice and the highest levels today are marked by bare rock with glacial features such as U-shaped valleys, ribbon lakes and moraine deposits, with biting winds and temperatures that frequently drop to minus 10°C, belying the fact that this is a mere 9° north of the Equator. Some of the oak trees are magnificent specimens reaching 30m (100ft). There are thought to be healthy numbers of Baird's Tapirs and Jaguars in the forests, although they are rarely seen, in fact there is one extremely remote part of the park that is known as the "Savannah of the Lions" – a reference to the large number of Pumas known to exist here. Over 400 species of bird have been recorded and there are good numbers of woodpeckers, woodcreepers and trogons. As well Spider Monkeys are more obvious.
The number one attraction in Chirripó National Park is climbing the Cerro Chirripó, the highest peak in Costa Rica. Although it is a very wild park is relatively accessible by foot. If you wish to climb Cerro Chirripó, you will need to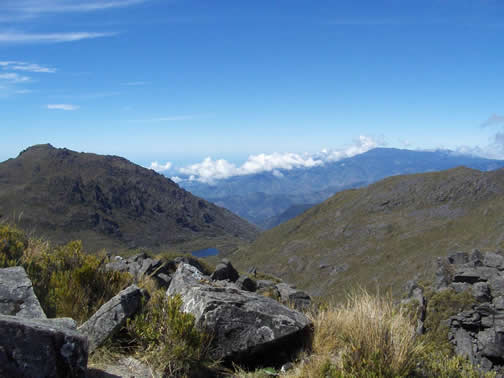 contact the National Park Service to book a place and have to do some advance planning, as only a certain number of people are allowed on the trail each day and the climb is very popular in the dry season, so it's a possibility that you may be told that there is a long waiting list. You should register with the ranger station arrival. Although the climb is straightforward and does not require any rock-climbing skills, it is a long uphill drag and the complete hike there and back normally takes two or three days. Camping is not allowed in the park and fires are banned. The hike begins at around 1229m (4000ft), passing through pastureland and then thick cloud forest. About halfway to the huts is an open-sided rest station, which should only be used for accommodation in an emergency. After 14km (8.7 miles) the accommodation huts are reached, surrounded by a swampy, treeless grassland. Accommodation needs also to be booked at the simple refuge huts. Bear in mind the climate and adopt a layered approach to clothing. It can be quite hot at lower levels and rain can be expected anywhere, even in the dry season.
The summit can be extremely cold, so a good sleeping bag is needed (it snowed lightly on New Years Eve on the peak). But with the clear air, a sun block is indispensable because the park is close to the equator, and at this altitude, you can get badly burned and end up in the hospital. Also take sunglasses, first-aid kit, insect repellent and a torch – the refuges have no lights, so sufficient food and water must be taken too. The following morning, it is a 90 minute walk to the summit of Cerro Chirripó. You will have a chance to see the epiphytic ecosystem up close and personal, an even better experience than a canopy tour, because your feet are planted firmly on the ground and you can spend as much time as you want for free. There is a choice of spending the day around the summit area and returning to the huts for the night or making the descent on the same day. There are some times that you may want to avoid Chirripó National Park because there are a large number of national hikers, and the refuges can fill up. These can be on the dry season weekends, especially Easter weekend, which can be very crowded. Otherwise whenever is a good time to go, even in the rainy season, it rarely rains before early afternoon, so if you are up with the sun you can be pretty exhausted before you have to duck for cover.
Considering that Chirripó is the 38th most prominent peak in the world, this journey is a once in lifetime experience for most tourists and with luck there will be clear visibility and views of both the Pacific and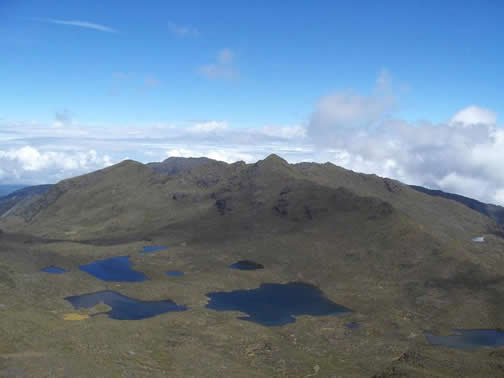 the Caribbean.
Getting to Chirripó National Park:
Take the Pan American Highway East out of San José to Cartago, go over Cerro de la Muerte until you reach San Isidro del General after a total of 153 km (92 miles) approx. 3 1/2 hours. From here on Chirripó National Park is some 20km (12 miles) northeast of San Isidro. There are several entrance stations.
There are no paved roads into the park. Access is generally by horse or foot from one of the four entrance stations (4WD required to reach each of them).
By bus
Take a bus from the route San Jose – San Isidro de El General and Chirripó National Park, which takes 3.5 hours (MUSOC, 2222-2422). We recommend buying the ticket a day earlier to be sure your seat is saved.
You can also take a bus San Jose – Quepos which takes 3.5 hours (Transportes Delio Morales, 2223-5567) and then take another bus Quepos – Buenos Aires (Gafeso).
By plane:
You can also take a flight from the Juan Santamaria Airport to the Quepos airport, either with Sansa, TravelAir or Nature Air airlines, both with daily flights. From here you can rent a car and drive or take taxi to Chirripó National Park, passing through Dominical and San Isidro del Genereal, which is about 1.5 hours.
Location: 20km (12 miles) northeast of San Isidro. Covers parts of San José, Cartago and Limón provinces.
GPS Coordinates: 9.325236,-83.608769 (9°19'30.85″N, 83°36'31.57″W)
Size: 50,150 ha (123,918 acres)
Altitude: from 900m (3000ft) rising to 3820m (12,533ft)
Schedule: the ranger station just south of San Gerardo de Rivas in Canáan is open 5:00 a.m. to 5:00 p.m.
Chirripó National Park Telephone: 905-244-7747 (905-Chirripo) / +(506) 2742-5348
Pacific La Amistad Conservation Area (ACLA-P) Telephoe: +(506) 2771-4836 / 2771-3155
INFOTUR Tourist Information: 1192
Address map: Click here to view directions from Juan Santamaria International Airport (SJO), Alajuela, Costa Rica TO San Isidro del General, San Jose, Costa Rica at Google Maps
If you didnt find what you were looking for, you can try our Google custom search: