Dr. Archie Carr Wildlife Refuge Costa Rica was created on May 19th, 1994 to operate the John H. Phipps Biological Station and Casa Verde Visitor's Center, which executes a sea turtle-tagging program among other research activities on its beaches. It is located within the Tortuguero Conservation Area, in Limón Province, Costa Rica. The refuge was named after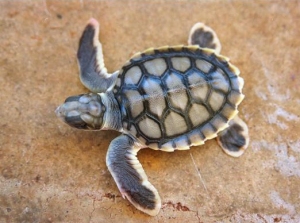 Dr. Archie Carr (born on June 16th, 1909 in Mobile Alabama), who set up the Caribbean Conservation Corporation in the same area in 1955.
Due to its proximity to Tortuguero and Barra del Colorado National Parks, its wildlife its almost the same. At Dr. Archie Carr Wildlife Refuge are around 400 species of birds, about 57 kinds of amphibians, 111 reptiles and 60 mammals, including many of the endangered animals in the country, such as jaguars, tapirs, ocelots, mountain lions. Similarly, the refuge has a large population of monkeys, anteaters, sloths, bats, river otters, alligators, crocodiles, birds, among which are toucans, parrots and kingfisher, as well as seven types of freshwater turtles. Manatees can occasionally be seen under water. Similarly, thanks to the large number of exotic shrubs on the ground is easy to observe swarms of butterflies.
Undoubtedly, the history of the Sea Turtle Conservancy (STC) is forever intertwined with the life and accomplishments of Dr. Archie Carr, who was truly a remarkable man. Through his research, teaching and writing, Dr. Carr is responsible for accumulating and distributing much of what is known about the biology and life cycle of sea turtles, who also is credited by many for bringing the first international attention to the plight of marine turtles.
For 20 years Archie Carr was chairman of the Marine Turtle Specialist Group of IUCN's Survival Service Commission, forging and directing the international movement for the conservation of sea turtles. During his tenure as chairman he was not afraid to take controversial stands. He consistently fought against the commercial "ranching" of sea turtles and sale of their products, a position that was supported by U.S. regulations and by CITES convention. He also opposed the removal of sea turtle species from the IUCN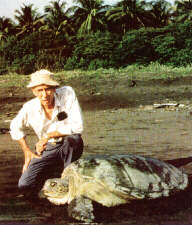 endangered or threatened lists merely because particular populations appeared to be doing well.
Besides his conservation work on behalf of sea turtles, Archie Carr also supported his wife's effective campaigns for conservation in Florida, and in the past few years devoted increasing time to the problem of marine pollution by plastics and petroleum. He won numerous awards and honors for his conservation work. These include the World Wildlife Fund's Gold Medal, the Smithsonian Institution's Edward W. Browning Award, the New York Zoological Society's Gold Medal, and the Hal Borland Award of the National Audubon Society. He was also appointed, by Prince Bernhard of the Netherlands, an officer of the Order of the Golden Ark.
Getting to Dr. Archie Carr Wildlife Refuge:
From San José, take the Guapiles highway toward the city of Limon. Near Limon, at the Bay of Moin, is the beginning of a navigable canal which leads northward through the Cariari National Wetlands and into the wilderness area of Tortuguero National Park.
The only access to Tortuguero and Dr. Archie Carr Wildlife Refuge is by boat or by plane. The ships can be boarded at Hamburg Port, just north Moín, schedule early morning departures only, or, alternatively, visitors can enter by the Sarapiquí River in Puerto Viejo.
By bus
Take a bus from the route San Jose – Cariari – Tortuguero, which takes 2 hours (Empresarios Guapileños, 2710-7780 / Rubén Bananeros, 2709-8005). To Tortuguero must get off at the last stop in Cariari, take the bus going to La Guees and then take a boat. We recommend buying the ticket a day earlier to be sure your seat is saved and if driving to Tortuguero, a 4×4 vehicle is highly recommended.
By plane:
You can also take a flight from the Juan Santamaria Airport to the Tortuguero airport, either with Sansa, TravelAir or Nature Air airlines, both with daily flights. For further information about this park contact the Tortuguero Conservation Area (ACTO).
Location: 1 km north of Tortuguero town, between Barra del Colorado Wildlife Refuge and Tortuguero National Park in Limon, Costa Rica
Tortuguero GPS Coordinates: 10.396217,-83.485778 (10°23'46.38″N, 83°29'08.80″W)
Size: 54 ha (109 acres)
Tortuguero National Park Telephone: +(506) 2709-8086
Fax: +(506) 2710-7673
Tortuguero Conservation Area (ACTO) Telephone: +(506) 2710-2929
INFOTUR Tourist Information: 1192
Web site: www.conserveturtles.org
Address map: Click here to view directions from Juan Santamaria International Airport (SJO), Alajuela, Costa Rica TO Parismina, Limon, Costa Rica at Google Maps
If you didnt find what you were looking for, you can try our Google custom search: