La Ceiba Wildlife Refuge Costa Rica was created on July 20th, 1995 in order to research and protect tropical forests and beach area. It is covered by tropical dry forest, is part of the Tempisque Conservation Area, and protects tropical forests on the Nicoya Peninsula, within the Nicoya Protected Zone, near the small village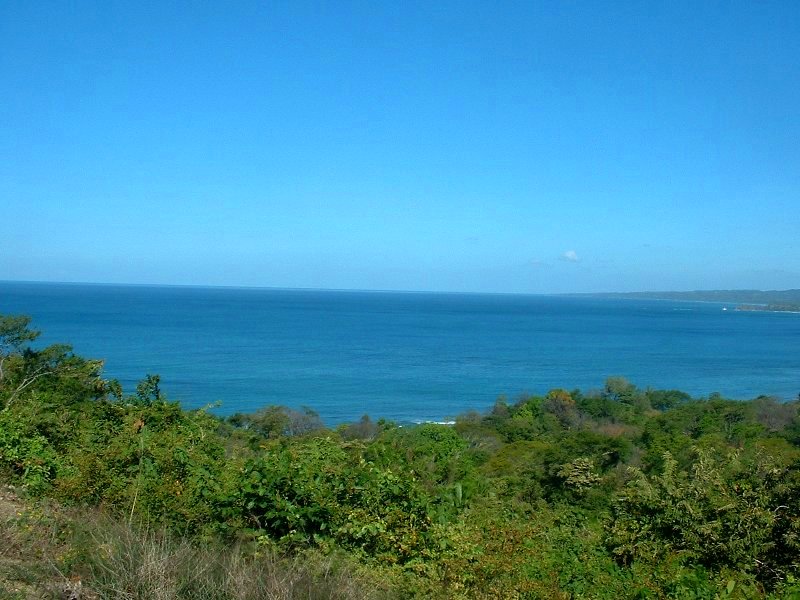 of San Rafael de Paquera in Puntarenas Province.
La Ceiba National Wildlife Refuge has a variety of life zones, including primary dry forest, mangroves and a beautiful white sand beach on which Hawksbill and Olive Ridley turtles nest. The refuge also houses a great variety of birds and terrestrial and marine biodiversity, such as monkeys, coatis, agoutis, kinkajous, raccoons, squirrels, White-tailed Deer, anteaters, peccaries, coyotes, opossums, armadillos, lizards, ocelots and margays and snakes like Boa Constrictor. The birds are typical of the dry tropical forest and include Black-headed Trogons, Hoffmann's Woodpecker, Turquoise-browed Motmots, Lesser Ground Cuckoos, Rose-throated Becards, Canivet's Emeralds, Thicket Tinamous, Magnificent Frigatebirds, Green-backed Heron, Royal Terns, Brown Pelicans, Laughing Falcons, Broad-winged Hawk and the Cattle Egret are a common sight.
The largest beach is excellent for swimming and offers good snorkeling possibilities. Humpback whales are often seen offshore in the nearby Bahia Ballena (Whale Bay), being January the best month to appreciate them.
The weather is typical of the zone, hot and sunny mornings, throughout the year. Afternoon showers are a possibility from May through November. The existing habitats include semi-deciduous forests with a mixture of evergreen and semi-deciduous species, low growing forest near the beach, mangrove swamps and littoral woodland. Some of the largest trees in these forests are the silk cotton, the Panama and the redwood.
La Ceiba National Wildlife Refuge has a small camping site and two cabins inside the reserve used for ecotourism, which helps fund the project. Other nearby Costa Rican parks include Curu National Wildlife Refuge and Cabo Blanco Absolute Natural Reserve, Romelia National Wildlife Refuge and Nicolas Wessberg Absolute Natural Reserve.
Getting to La Ceiba Wildlife Refuge:
From San Jose take the Pan-American Highway to Puntarenas, passing through San Ramon and Barranca. Probably the easiest way to get there is by taking the Ferri to Paquera (we recommend you get to Puntarenas an hour before the ferry leaves). Once in Paquera follow the signs to La Ceiba Wildlife Refuge. Now you can also take the new Caldera Highway (route 27), until you get to Puntarenas. The Caldera trip takes about 3 hours from San Jose while the other takes about 5 hours.
From Daniel Oduber Quiros International Airport (LIR), drive south through Santa Cruz, Nicoya, Nandayure, Lepanto and Paquera.
By bus
Take a local bus from the route San Jose – Malpais – Montezuma, which takes about 5 hours, making the stop at Paquera (Transportes Rodriguez, 2642-0219). We recommend buying the ticket the day before to secure your space.
By plane:
You can also take a flight from the Juan Santamaria Airport to the Tambor Airport, either with Sansa Airlines or Nature Air every day. From here you can rent a car and drive, or take a bus or taxi to La Ceiba Wildlife Refuge, which takes about 25 minutes.
Location: southern Nicoya Peninsula in Puntarenas, Costa Rica
Paquera GPS Coordinates: 9.821142,-84.935581 (9°49'16.11″N, 84°56'08.09″W)
Puntarenas Ferry GPS Coordinates: 9.977431,-84.848553 (9°58'38.75″N, 84°50'54.79″W)
Size: 273 ha (674 acres)
Tempisque Conservation Area (ACT) Telephone: +(506) 2686-4967 / 2686-4968
INFOTUR Tourist Information: 1192
Address map: Click here to view directions from Juan Santamaria International Airport (SJO), Alajuela, Costa Rica TO Paquera, Puntarenas, Costa Rica at Google Maps
If you didnt find what you were looking for, you can try our Google custom search: