Haga click en el siguiente enlace para leer está página en Español: Parque Nacional Diriá Costa Rica
Diria National Park Costa Rica: created on July 9th, 1991 in order to preserve the tropical and higher elevated cloud forests of the central highlands of the Nicoya Peninsula, as well as to protect the hydrographic basins of four major rivers including the Diria, Enmedio, Verde, and Tigre, which have been created a terrain of deep valleys with steep slopes. It is one of the newest National Parks of Costa Rica as it just got declared a National Park in 2004, was formally known as the Diria National Forest Wildlife Refuge, which forms part of the Tempisque Conservation Area and
is located South of Santa Cruz in Guanacaste Province.
This area was created after several years of rampant deforestation of precious rainforest woods including mahogany. If you look at a map of Costa Rica, you can notice that the park is located in the Nicoya Peninsula, one of the first regions of Costa Rica colonized by the Spanish. This reason combined with the fact that its proximity to the ocean facilitated transport of its valuable mahogany and other hardwoods ensured that most of the peninsula was deforested decades ago. Originally, it was designated as a protected zone by presidential decree in 1991 and then two years later it was became a National Wildlife Refuge.
Most importantly, Diria National Park protects some of the last old growth forest on the peninsula, which is known for its exceptional tree species. At least 382 plant species have been identified including beautiful examples of tropical hardwoods such as Pochote, Mahogany and Ceibas as well as a variety of endangered plant species. Above 700 meters in elevation visitors can even encounter evergreen species, moss and gigantic bromeliads. The park is in a steep humid "premonte" forest, which is especially important because it protects watersheds in a region with a long, hot, dry season, as well as it provides a glimpse into the forests of Nicoya's past and hopefully its future.
Hike the two trails that depart from the ranger station, El Venado and El Escabel, to appreciate its natural attractions and the beautiful tropical Brasil Waterfall. Here you can see such species such as howler and capuchin monkeys, peccaries, anteaters, deer, skunks, Jaguarundi, iguanas, Whiptails lizards, skinks and butterflies, as well as over 140 different species of birds. A few of the many snake species found within the boundaries of Diria are Tropical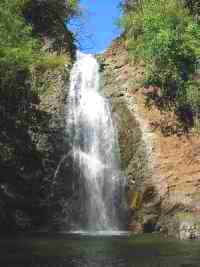 Rattlesnake, Vine Snakes and Boa Constrictor.
Although the scenic rolling hills of Nicoya can be viewed from these trails, the best overlook is at Vista al Mar, which is on the main road just after it exits the southern park boundary where you can see the ocean, and at higher elevations, you can see cloud forest. The surrounding area is also perfect for mountain biking and horseback rides.
If you need a change from the beaches, Diria National Park makes for a wonderful escape. With scenic hiking-trails and a basic cabin this might be a nice group or biological research and exploration destination.
The park has a ranger station at Sector Diria which is open daily for visitors and tourists. Basic dormitory lodging and camping are possible within Diria National Park and both officially require permits obtained in advance. The lodge consists on a bunkhouse cabin located within the park with a capacity of 25 persons with drinking water, electrical generator, laboratory and study rooms for research groups. These accommodations are mainly used by scientists who are in the field doing laboratory work or for research groups. The park relies on donations in order to expand.
Other nearby national parks includes Barra Honda National Park, Ostional National Wildlife Refuge, Tamarindo National Wildlife Refuge, Las Baulas National Marine Park, Corral de Piedra Palustrine Wetland, Rio Cañas Wetland and Palo Verde National Park.
Getting to Diria National Park:
From San José, take the Pan-American Highway north and take the turn-off to Nicoya. Drive to Santa Cruz, then head south on the road to Arado and Retallano following the signs to Diria National Park. It is 9 kilometers south of Santa Cruz and is a 6 hour drive from San Jose.
From Daniel Oduber Quiros International Airport (LIR), drive south to Santa Cruz, then head south on the road to Arado and Retallano following the signs to Diria National Park. It is 9 kilometers south of Santa Cruz. From Liberia, it takes around 45 minutes.
By bus:
You can take a bus San José – Santa Cruz, which takes about 4.5 hours (Empresa Alfaro-Tracopa, 2222-2666 / 2685-5032). From here you can take taxi to Diria National Park, which is about 15 minutes.
By plane:
You can also take a flight from the Juan Santamaria Airport to Daniel Oduber Airport, either with Sansa Airlines or Nature Air every day. From here you can rent a car and drive, or take a bus or taxi to Diria National Park, which is about 45 minutes.
Location: in Arado, district: Santa Cruz, canton: Santa Cruz, province: Guanacaste, Costa Rica. Zone postal code: 50301.
GPS Coordinates: 10.173117,-85.595264 (10°10'23.22″N, 85°35'42.95″W)
Size: 5.430 ha (13,402 acres)
Elevations: from 150m to 1050m (460ft to 3150ft), with tropical cloud forest in the higher elevations.
Schedule: from 8:00 a.m. to 4:00 p.m.
Hojancha Office Telephone: +(506) 2659-9039
Santa Cruz Conservation Area Telephone: +(506) 2680-1820
Tempisque Conservation Area (ACT) Telephone: +(506) 2686-4967 / 2686-4968
INFOTUR Tourist Information: 1192
Click here to view directions from Juan Santamaria International Airport (SJO), Alajuela, Costa Rica TO Diria National Park in Guanacaste, Costa Rica at Google Maps
If you didnt find what you were looking for, you can try our Google custom search: