Lying in the beautiful blue Pacific Ocean, some 20 km offshore from the Osa Peninsula at Drake Bay, Isla del Caño (Caño Island) is an amazing marine biological reserve in Costa Rica. Part of Puntarenas province and just northeast of the Corcovado National Park, Isla del Caño is an island of considerable geographical and archeological importance. It was formerly a cemetery or burial ground dating back to the pre-Columbian era. Isla del Caño was named in 1519 by Juan de Castañeda. In 1976, the island was annexed to be a part of Corcovado National Park and it was declared a biological reserve in 1978.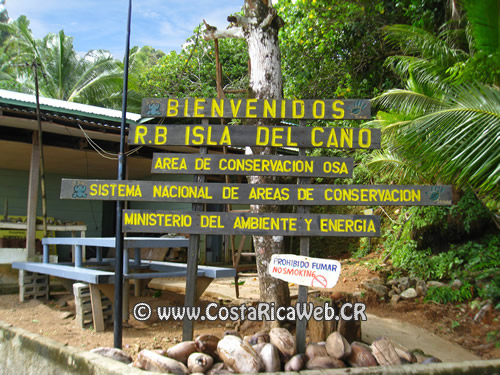 The real beauty of Isla del Caño is not found on its land, but underwater. This island's virgin waters are some of the bluest in the country, and are home to a spectacular variety of stunning marine flora and fauna as well as some beautiful coral reefs. Rated as being one of the best underwater adventure diving spots in the world, the Isla del Caño Biological Reserve is also home to a huge variety of fish, whales and sharks.
Isla del Caño is noted mainly for its coral reef. With fantastic underwater visibility, snorkelers and divers can see on any given day spiny lobsters, sea urchins, sea cucumbers, manta rays, sea fans, cup corals, head corals, moray eels, sea snakes, barracudas, lots of sharks (whitetips reef shark) ranging in size from 6-10′, sea turtles, dolphins, stingrays, huge snappers, groupers, tuna, needlefish and a whole range of colorful tropical fishes. Beneath the low cliffs, the white sand beaches are attractive to Olive Ridley turtles, while the offshore waters contain migrating orcas, false orcas, Bryde's Whales, Pilot Whales, Sperm Whales, Humpback Whales, Pygmy Sperm Whales and plenty of Common Bottlenose Dolphins.
So far, scientists have been able to identify 19 different species of coral and 60 species of mollusk. The dominant species of coral is the Porites lobata, which is highly resistant to environmental fluctuations. Because of this, combined with the fact that it recuperates quickly and has very few animals that prey on it, the ecosystem of the waters surrounding Caño Island is one of the healthiest and best preserved in the Costa Rican Pacific.
Isla del Caño Biological Reserve other claim to fame is of an archeological nature, as it was a burial ground for the pre-Colombian cultures from the Chiriquí communities from 1500-700 B.C., with a clear South American influence. The perfectly round stone spheres made by the former natives of this land, the lithic spheres of the Diquis tribe, are found here in abundance,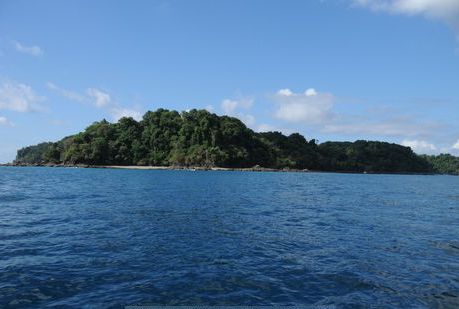 along with other artifacts. In the center of the island lies a vaco (Brosimun utile) plantation, which is thought to have been used for religious purposes by the Quepos and Cotos.
Wildlife is scarce, consisting mainly of insects like bees, moths, beetles and mosquitoes, as well as some frogs and small lizards. You can also find the Boa Constrictor, pacas, opossums, bats and pigs. The island has only 13 species of terrestrial birds, but plenty of sea birds such as the osprey, black hawk, phalaropes, the Brown Booby and Cattle Egrets. Aside from the evergreen forest found on the island, the only other trees growing out here include the rubber tree, the wild cocoa tree and some shrubs and bushes.
The greatest attractions of Isla del Caño lie beneath the waters surrounding the island, because the island is surrounded by five platforms of low coral reefs, it could very well be Costa Rica's finest diving spot! Skin Diver magazine has rated the site as among the best in the world and one of the newest hot spots for adventure diving. This virgin area offers a variety of unique diving attractions, from 15' – 16′ to 80′ reefs "walls".  However, because it is a biological reserve, diving numbers are strictly regulated. There are only 5 dive sites and only 10 divers are allowed to be in the water at one time. Also, by law, it is totally prohibited to remove any marine objects dead or alive (shells, corals, etc.)
There is a single trail that runs inland from the ranger station through the forest. Camping is allowed on the beach near the ranger station, with potable water but there are no facilities. Many dolphin and whale watching tours are offered from the Osa Peninsula. While the experience is great, it is recommended that you take note of regulations for these activities,
in order to make sure that you do not adversely affect the behavior of these marvelous visitors.
Considering all of this, it's not surprising that many people regard Isla del Caño as the best scuba diving spot in the entire country. So if you plan on visiting here, don't forget to bring your snorkeling or diving gear and be prepared for an underwater adventure of a lifetime!
Getting to Caño Island Biological Reserve:
Take the Interamerican Highway from San Jose to Piedras Blancas until La Chacarita gas station and then take the exit to your right (dirt road) to Puerto Jimenez, or you can take the exit to Sierpe and then take a boat to Drake Bay. Distance is about 395 kilometers (240 miles) by road. The total trip from San Jose takes about 7 hours.
By bus
Take a bus from the route San Jose – Puerto Jimenez, which takes about 8 hours (Transportes Blanco, 2771-4744). From here you can rent a boat to Caño Island Biological Reserve, which takes about 50 minutes.
You can also take a bus from the route San Jose – Puerto Jimenez, which takes about 8 hours, and get off at Palmar Norte (Transportes Blanco, 2771-4744). From here go to Sierpe and there take a boat to Caño Island Biological Reserve.
By plane:
You can also take a flight from the Juan Santamaria Airport to the Puerto Jimenez Airport, either with Sansa or Nature Air airlines, both with daily flights. From here you can rent a boat to Caño Island Biological Reserve, which takes about 50 minutes.
Location: 20km (12 miles) west of the Osa Peninsula, in southern Puntarenas province, Costa Rica.
Isla del Caño GPS Coordinates: 8.705333,-83.878367 (8°42'19.20″N, 83°52'42.12″W)
Drake Bay GPS Coordinates: 8.690428,-83.664175 (8°41'25.54″N, 83°39'51.03″W)
Size: 300ha (741 acres)
Altitude: sea level to 110m (361ft)
Osa Conservation Area (ACOSA) Telephone: +(506) 2735-5580 / 2735-5276
INFOTUR Tourist Information: 1192
Address map: Click here to view directions from Juan Santamaria International Airport (SJO), Alajuela, Costa Rica TO Caño Island Biological Reserve in Puntarenas, Costa Rica at Google Maps
If you didnt find what you were looking for, you can try our Google custom search: