Cahuita National Park Costa Rica: the small village of Cahuita is located on the Caribbean coast some 42km (26 miles) south of Puerto Limón. The Park, established in 1970, is one of the most beautiful parks in Costa Rica consisting of a platform of coral reef and a beach surrounded by rainforests and mangroves. Its attractiveness is due to its white sandy beaches with lush coral reefs and palm trees surrounded by a magnificent forest vegetation and extensive mangrove swamps. Cahuita National Park was established to protect not only the terrestrial flora and fauna, but also coral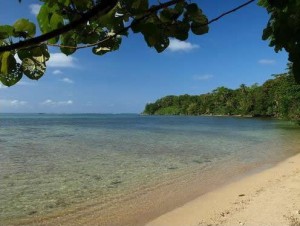 reefs against sedimentation which deteriorates gradually and various marine ecosystems, which no doubt are true natural Costa Rican jewels.
Its sand and gravel streets hold up a population of mainly English-speaking, descendants of the Afro-Caribbean fishermen who settled here in the 50's. Tourism has developed significantly with new hotels and restaurants located and gradually spreading along at Playa Negra, a black sand beach north of town, while the south is more of a white sand beach surrounded by the rainforest. This makes that the town become very popular with young backpackers. Between the two is a "peninsula", with coral reef offshore, making up the Cahuita National Park, which covers a mere 1067 ha (2636 acres). However the park contains a wide variety of species, both on the land and in the sea. The coral reef is just offshore and it is possible to wade out to it, although local boatman can take you out. Snorkeling is excellent thanks to the extraordinary spectacle that offer a variety of multicolored fish and corals, especially during the drier parts of the year that are between February and April and between September and October, as in other times of the year heavy rains that fall in the Talamanca mountains rise sediments of the local rivers, causing the water visibility very poor.
Inside the coral reef are a variety of attractive corals, such as the massive brain corals, the sea fans, the blue staghorn, the elkhorn, the tubipora and frondlike gorgonias. Although, more than 500 species of fish have been identified around the reef, which also congregate around two old wrecks, which guns can be easily viewed, including the famous angel fish, the amazing rock beauty and the blue parrotfish. Equally Cahuita National Park has over 40 species of crustaceans, 120 species of algae and around 140 species of molluscs. Both swimmers and snorkelers should be aware of the local black sea urchins, which are characterized for having large and vicious black spines.
Although Cahuita is basically a marine park, just under half comprises beach and coastal strip of rainforest and mangroves. The park covers an area of approximately 1106ha of land, and the part of the reef consists of about 600ha, of which 240 acres belong to the only coral reef in Costa Rica well developed around Punta Cahuita. The beach is inhabited by red landcrabs and bright blue fiddler crabs with their huge claws. A trail runs in and out of the forest behind the beach,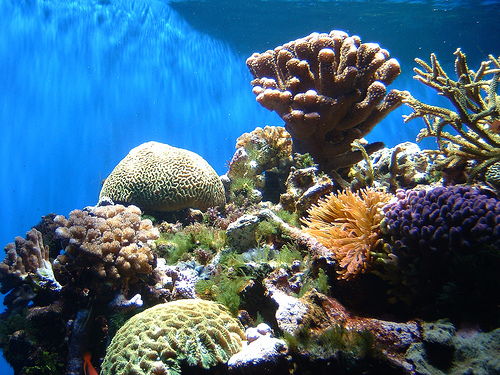 joining the two ranger stations. Animal life abounds, with the possibility of seeing Raccoons, Sloths, Coatis, Armadillos, Agoutis and both Howler and White-faced Monkeys. The bird-watching is excellent, with Rufous, Green Ibis, Kingfisher, parrots and spectacular toucans amongst many others. The small rivers running into the reserve are home to a variety of herons. The vegetation is also interesting and includes the Breadfruit tree or Artocarpus altilis, believed to have been introduced to the area in 1793 by Captain Bligh. It can reach 20m (60ft) in height and its glossy leaves are often over a meter in length. The tree gets its name from its fruit, which can be cooked to give a bread-like substance that is rich in carbohydrate. All parts of the tree yield latex, which is used for boat caulking. Another tree found in the area is the cawi or sangregao. The Miskito word gave its name to Cahuita, which translates as "the headland of cawi trees".
A few kilometers north of Cahuita is the Estrella River estuary, where a small wildlife sanctuary named "Aviarios del Caribe" is based on an island in the estuary. There are   numerous birds and animals at the sanctuary and popular guided kayak tours of the estuary will turn up a wide range of wildlife, including caimans, river otters and many types of heron.
Just 13km (8 miles) south Cahuita is the laid-back town of Puerto Viejo de Talamanca, which has become very popular in recent years with surfing and backpacking crowd. The main attraction without doubt is the surf, which is the best between December and March. A local organization called ATEC (Asociacion Talamanqueña de Ecoturismo y Conservación), which is devoted to ecologically sustainable development, runs tours including guided walks through the rainforest, snorkeling trips to the reef and fishing trips dugout canoes. The road from Puerto Viejo has recently been paved, making it easier to reach the villages of Punta Uva and Manzanillo, with superb beaches backed by coconut palms.
There is a scenic trail from the Kelly Creek Station along the coast to the beach camping area, then to the Puerto Vargas Station. Both ranger stations are open for visitor attention and have potable water and restrooms. Also, the beach camping area has restrooms, showers and picnic tables. Swimming is allowed only in this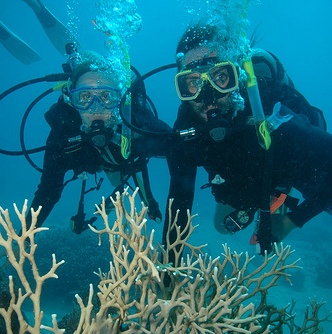 area, as other beaches of the park have strong currents or are protected turtle nesting areas. Other nearby parks include Hitoy Cerere Biological Reserve, Aviarios del Caribe National Wildlife Refuge and Gandoca-Manzanillo National Wildlife Refuge.
Getting to Cahuita National Park:
From the Juan Santamaria International Airport drive for about 8 km in direction to San Jose. On your right hand the Hospital Mexico will appear.After the Hospital Mexico, you must take the exit to La Uruca (on the rotonda, the third exit). Turn right at the traffic lights and follow to San José (keep the middle lane as much as possible) until you get to Shell gas station at a Y-junction, keep left. Take the exit Guapiles-Limon and follow the road (nr. 32) to Limón, passing through the Zurqui bridge and the Braulio Carrillo mountains. It is likely that you will encounter fog and rain. Please drive with your lights on. After the mountains the road to Limon is practically straight with no hills.
When you reach Puerto Limon, just before you enter to the city you will see a sign (at the Texaco Station) where you turn right and go to Cahuita and Puerto Viejo and just follow the coast all the way down. The Kelly Creek Station is found on the south side of town by walking across a foot bridge. To get to the Puerto Vargas Station, drive 4 miles past Cahuita and the station will be on your left. This route requires a total of five hours from San Jose.
Please note that if you have not left San Jose by 2 pm you will be driving part of the way at night. We do not recommend this for first time travelers driving in Costa Rica. Roads do not have lines, and rain can be bad and there are potholes and people walking/cycling that you can not see very well.
By bus
Take a bus from the route San Jose – Cahuita National Park – Puerto Viejo, which takes 4 hours (Autotransportes MEPE S.A., 2257-8129 / 2758-1572). We recommend buying the ticket a day earlier to be sure your seat is saved.
By plane:
You can also take a flight from the Juan Santamaria Airport to the Limon, either with Sansa, TravelAir or Nature Air airlines, both with daily flights. From here you can rent a car and drive or take taxi to Cahuita National Park, which is about 40 minutes.
Location: South Caribbean coast, district: Cahuita, canton: Talamanca, province: Limon, Costa Rica. Zone postal code: 70403.
GPS Coordinates: 9.736603,-82.839292 (9°44'11.77″N, 82°50'21.45″W)
Size: 1067 ha (2636 acres)
Altitude: above sea level
Schedule: from 8 a.m. to 4 p.m.
Cahuita National Park Telephone: +(506) 2755 0302
Caribbean La Amistad Conservation Area (ACLA-C) Telephone: +(506) 2795-1446
INFOTUR Tourist Information: 1192
Address map: Click here to view directions from Juan Santamaria International Airport (SJO), Alajuela, Costa Rica TO Cahuita National Park in Limon, Costa Rica.
If you didnt find what you were looking for, you can try our Google custom search: