Barra del Colorado National Wildlife Refuge Costa Rica is situated between Tortuguero National Park and Nicaraguan border. Ecologically it is very similar to Tortuguero because of the canals, rivers, swamps, gaps, river islands and hills. Barra del Colorado is in a very rainy area and the failure to have not a marked dry season makes it dominating the humid and very hot climate. The refuge is no longer used for farming as earned its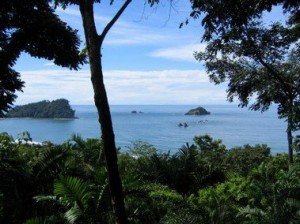 status as a protected area later. Definitely, a boat trip along the San Juan River, which forms the border to Nicaragua, shows the contrast between the two countries, with thick forest to the Nicaraguan side and much farmland on the Costa Rican side. However, there is plenty of rainforest species similar in range to those at Tortuguero. The reserve is mostly comprised of the San Juan River delta which drains in Nicaragua Lake. The Colorado River is the main distributary on the Costa Rican side and it is at the mouth of this river that people finds the village of Barra del Colorado, divided into Barra Norte on the river's north side and Barra Sur to the south. The airstrip is at Barra Sur.
The 2000 or so inhabitants of the river delta are a mixture of Afro-Caribbean, Costa Rican Indians, Costa Ricans and some Nicaraguans who fled across the border during that country's civil war. Barra's closeness to the instability in Nicaragua has held up tourist development, but this is likely to change in the not too distance future.
With an average temperature of 26C (79F) and an annual rainfall of 4000mm (160in), the refuge has a similar climate and natural vegetation to Tortuguero. The wildlife is equally good, particularly as there are fewer disturbances, but the reserve is less accessible and there are few trails, so that most viewing is by boat. People are certain to see mammals such as Three-toed Sloths and both Spider and Howler Monkeys, while reptiles include caymans, crocodiles and the omnipresent iguana. There is a wide range of forest and water birds, such as the famous toucans, Green Macaws, parrots, trogons and jacanas, as a whole selection of the heron family. This is also the best location in Costa Rica to see the endangered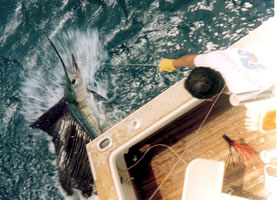 Manatee pasting under the water.
Most of the people, however, come to Barra del Colorado for the sport fishing, as it is in fact one of the most important areas in Costa Rica dedicated to this activity. The best season for tarpon fishing is from February to late May, while snook are trapped in droves from September to October, through there is good fishing to be had at any time of the year. Other fishes available in that zone include the spectacular rainbow bass, barracudas and the amazing Gaspar fish, the one that is known as a living fossil thanks to its large mouth with sharp teeth which makes it look like a crocodile. Although, there is deep-sea fishing offshore for both marlin and sailfish. Most lodges operate a 'catch and release' policy.
The refuge has a ranger station with general information, drinking water, restrooms, a research center and higher education on the Humid Tropics, showroom, public telephone, a river port, airport and bus terminal. Furthermore, in the village you can find food and lodging services. Other nearby parks include Tortuguero National Park, Dr. Archie Carr National Wildlife Refuge and the Corredor Fronterizo Costa Rica – Nicaragua National Wildlife Refuge.
Getting to Barra del Colorado National Wildlife Refuge:
From San José, take the Guapiles highway toward the city of Limon. Near Limon, at the Bay of Moin, is the beginning of a navigable canal which leads northward through the Cariari National Wetlands.
The only access to Barra del Colorado is by boat or by plane. The ships can be boarded at Hamburg Port, just north Moín, schedule early morning departures only, or, alternatively, visitors can enter by the Sarapiquí River in Puerto Viejo.
By bus
Take a bus from the route San Jose – Cariari – Tortuguero, which takes 2 hours (Empresarios Guapileños, 2710-7780 / Rubén Bananeros, 2709-8005 / Copetrac, 2767-6139). To Tortuguero must get off at the last stop in Cariari, take the bus going to La Guees and then take a boat. We recommend buying the ticket a day earlier to be sure your seat is saved and if driving to Tortuguero, a 4×4 vehicle is highly recommended.
You can also take a bus from San Jose – Cariari (Copetrac, 2767-6139) from the Gran Terminal Caribe to connect with buses to Puerto Lindo or to La Pavona. Then take either public water taxi or arrange to have your lodge collect you. There is also bus service between Cariari and Guapiles. Morpho Travel (2711-0674) offers boat service between Tortuguero and Pavones.
By plane:
You can also take a flight from the Juan Santamaria Airport to the Barra del Colorado airport, either with Sansa, TravelAir or Nature Air airlines, both with daily flights.
Location: between Tortuguero National Park and Nicaraguan border on the Caribbean coast.
GPS Coordenates: 10.751839,-83.589853 (10°45'06.62″N, 83°35'23.47″W)
Size: 92,000ha (227,000 acres)
Altitude: above sea level
Barra del Colorado National Wildlife Refuge Telephone: +(506) 2711-1201
Fax: +(506) 2710-7673
Tortuguero Conservation Area (ACTO) Telephone: +(506) 2710-2929
INFOTUR Tourist Information: 1192
Address map: Click here to view directions from Juan Santamaria International Airport (SJO), Alajuela, Costa Rica TO Barra del Colorado Airport in Limon, Costa Rica at Google Maps
If you didnt find what you were looking for, you can try our Google custom search: