Hitoy Cerere Biological Reserve Costa Rica was created on April 27th, 1978 and since then protects more than 40 species, including endangered species between the hills of the Talamanca mountain range on the Caribbean Brunca region, such as the silk anteater, ocelots and peccaries. Approximately 60km (37 miles) south of Limón in the Estrella Valley, between the Estrella and Telire Rivers is located in the Talamanca mountain range the Hitoy-Cerere Biological Reserve, surrounded by many indigenous reserves like Tayni, Telire and Talamanca, one of the least visited parks in Costa Rica, largely due to its extreme inaccessibility. This reserve protects a remote and pretty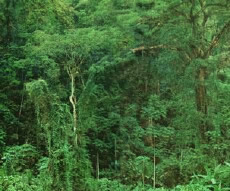 unexplored area of rain forest. This area belongs to La Amistad Caribbean Conservation Area of the Minister of Environment and Energy, which was declared a World Heritage Site by UNESCO in 1993.
The reserve has a humid tropical and a premountain pluvial forest. Just getting to the Hitoy-Cerere Reserve can make for an interesting all-day adventure, its rugged terrain and the uneven terrain combined with the heavy rainfall – an outstanding 4000mm (158in) a year with no dry season – make this park somewhat difficult to deal and will deter all but the most enthusiastic naturalist. One of the best ways of getting into the reserve is to walk the river beds upstream. This is also a good way to be able to sight the prominently patterned Sunbittern, a bird that frequents the tropical streams.
The name refers to the primary river basins, the Hitoy and the Cerere Rivers, which comes from the Bribrí language, hitoy meaning "moss-covered" and cerere referring to "clear waters". The habitat is dense tropical rainforest, with all trees, dripping with epiphytes, bromeliads, orchids and lianas.
This is one of the best areas of Costa Rica to see large wild cats, as there is a great abundance of mammalian fauna including white-faced and howler monkeys, jaguars, tapirs, peccaries, rabbits, anteaters, sloths, pacas, deers, agoutis and armadillos. Also, there are over 300 species of birds and more than 30 species of amphibians and 30 reptiles. A big attractive of this reserve are the frogs and toads, which include the poison dark frog colored like the Dendrobates species. Other species are the cherepos, gallegos, chirbalas and many snakes. The invertebrates that live in this reserve are the bullet and leaf-cut army ants, huge dragonflies, red butterflies, metal colored bees and beetles. Also you can find spiders in every hide corner, but must be prepared to work for it; here the trails are poorly maintained and the uphills are difficult. The road to the reserve reveals vegetation like herpetecanthus stenophyllus, ticodendron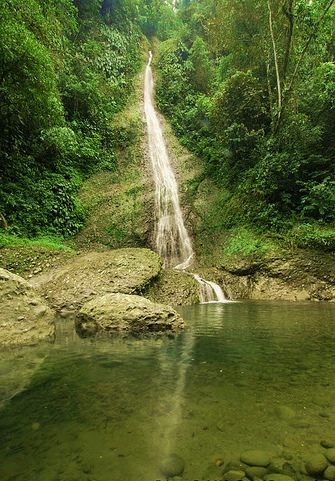 incognitum and trees full of the colonial nests of Montezuma and Chestnut-headed Oropendolas, large members of the oriole family with bright yellow tails, can be found nesting in the valley from January to August. Nest trees are easy to spot since they sport dozens of meter-long hanging pouch nests that the birds so expertly weave. Also there are big forest trees which make the canopy function. These trees are javillos, espavels, aguacatillos, ojoches and guayabones. More than 380 species of plants are known but this number grows more each day.
In the forest you are able to see the outstanding Squirrel Cuckoo, toucans and parrots. This is also one of the last strongholds of the extremely endangered Harpy Eagle. There are few facilities at the reserve, but there are a few trails; these, however, are very challenging and only for the experienced tropical hiker. North of Hitoy-Cerere is Selva Bananito, a 2,350 acre (950 ha) reserve adjacent to a neighboring cattle ranch. A four-wheel drive vehicle is necessary to navigate the dirt roads that lead to the reserve, but the park can also be reached by foot and horseback.
If you're an intrepid trekker and know how to take care of yourself in the jungle, this is an exceptional opportunity to experience uncharted territory filled with pristine waterfalls, lush vegetation and hundreds of species of animals that haven't even been recorded by biologists yet.
Undeveloped and virtually unexplored, the Hitoy Cerere is only for the most adventurous and fit hikers, this biological reserve is one of the most remote territories in the eastern portion of the country. In fact, there are several unexplored portions along the upper Talamanca Mountains. There is a ranger station at the entrance, but no other facilities exist. Other nearby parks include Cahuita National Park, Gandoca Manzanillo National Wildlife Refuge and Aviarios del Caribe National Wildlife Refuge.
Getting to Hitoy-Cerere Biological Reserve:
From the Juan Santamaria International Airport drive for about 8 km in direction to San Jose. On your right hand the Hospital Mexico will appear. After the Hospital Mexico, you must take the exit to La Uruca (on the rotonda, the third exit). Turn right at the traffic lights and follow signs to San José (keep in the middle lane as much as possible) until you get to a Shell gas station at a Y-junction, where you will turn left. Take the exit Guapiles-Limon and follow the road (route #32) to Limón, passing through the Zurqui bridge and the Braulio Carrillo mountains. It is likely that you will encounter fog and rain. Please drive with your lights on. After the mountains the road to Limon is practically straight with no hills.
When you reach Puerto Limon, just before you enter the city you will see a sign (at the Texaco Station) where you turn right and go to Cahuita and Puerto Viejo and then turn right to La Estrella Valley. The reserve is about 40 miles southwest of Limón, and about an hour and a half from Cahuita. This route requires a total of six hours from San Jose.
Please note that if you have not left San Jose by 2 pm you will be driving part of the way at night. We do not recommend this for first time travelers driving in Costa Rica. Roads may not be well marked, and rain can be bad and there are potholes and people walking/cycling that you may not be able to see very well.
By bus
Take a bus from the route San Jose – Cahuita National Park – Puerto Viejo, which takes 3.5 hours (Transportes Caribeños, 2257-8129). We recommend buying the ticket a day earlier to be sure your seat is saved.
By plane:
You can also take a flight between the Juan Santamaria and the Limon airports, either with Sansa, TravelAir or Nature Air airlines, all with daily flights. From here you can rent a car and drive or take a taxi to Hitoy-Cerere Biological Reserve, which is about 1.5 hours.
Location: 60km (37 miles) south of Puerto Limón, Valle La Estrella, Limon, Costa Rica. Zone postal code: 70102
GPS Coordinates: 9.667625,-83.003381 (9°40'03.45″N, 83°00'12.17″W)
Size: 9154 ha (22,620 acres)
Altitude: 150m (430ft) rising to 1000m (3280ft)
Caribbean La Amistad Conservation Area (ACLA-C) Telephone: +(506) 2795-1446
INFOTUR Tourist Information: 1192
Address map: Click here to view directions from Juan Santamaria International Airport (SJO), Alajuela, Costa Rica TO La Estrella Valley, Limon, Costa Rica at Google Maps
If you didnt find what you were looking for, you can try our Google custom search: