Location: Abangaritos, district: Manzanillo, canton: Puntarenas, province: Puntarenas. Zone postal code: 60106.
La Ensenada Wildlife Refuge entrance GPS Coordinates: 10.195983,-84.953451 (10°11'45.54″N, 84°57'12.42″O)
Punta Morales GPS Coordinates: 10.110108,-84.918986 (10°6'36.39″N, 84°55'8.35″O)
Size: 350ha (865 acres)
Altitude: 600m (2000ft) to 1400m (4600ft)
La Ensenada Wildlife Refuge Telephone: +506 2661-4090 / +506 2289-6655
Central Pacific Conservation Area (ACOPAC) Telephone: +506 2416-7878
INFOTUR Tourist Information: 1192
Website: www.laensenada.net
Address map: Click here to view directions from Juan Santamaria International Airport (SJO), Alajuela, Costa Rica TO La Ensenada Wildlife Refuge in Puntarenas, Costa Rica at Google Maps
La Ensenada Wildlife Refuge Costa Rica was created on August 18th, 1998 to protect mangroves and wetlands at the mouth of the Abangares River, which empties into the  Nicoya Gulf, north of Pajaros Island. The area is very important because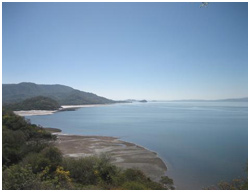 it has one of the last primary and secondary forests of the northern Puntarenas province.
The area covers three types of wet environments: mangroves, sweet freshwater and a line on the Nicoya Gulf shore. Today the refuge has more than 30% of the farm covered by forests, which helps to maintain the natural habitat. Since 1977 La Ensenada Wildlife Refuge has been working in defending what has been declared a "national refuge", including the mangle zones at the end of the Abangares River.
La Ensenada National Wildlife Refuge is a new alternative to rest and meditate in a peaceful atmosphere of nature surrounded by beautiful flowers and birds. It is an ideal place for horseback riding; bird watchers, naturalists and nature lovers. La Ensenada has developed a three steps reforesting program: a natural return to the forest environment, which was degraded by cattle farming; plantation of local species in selected areas; and plantation of exotic species.
Because of its family management, visitors have the opportunity to participate in the daily activities of the farm, as well as horseback riding assisted by local guide. You will become part of the typical life of a Costa Rican ranch. The Nicoya gulf, the mangroves and the salina offer those who love birds and photography many different species – more than 140 species – including pelicans, herons, parrots, Montezuma Oropendola (Psarocolius montezuma), bellbirds, great egret, tri-colored heron, purple gallinule, double-striped thick-knee, parakeets, roseate spoonbills, hawks, black-bellied whistling ducks, trogons, the famous kingfishers, and with some luck, you might see a jabiru. You can also see crocodiles, coyotes, sloths, agouties, iguanas, howler and white-faced monkeys.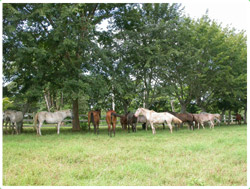 People can also have a working farm experience. La Ensenada Wildlife Refuge offers a chance to participate in Costa Rican farm life and participate in the production of salt and fruits, with cattle, horses and various fruit crops, including watermelon. Explore the refuge trails, visit a salt flat and see salt produced much the way indigenous peoples did it (from January to April); go to a freshwater lagoon and through forest to a hilltop view of the gulf at sundown, take a three-hour boat trip to Palo Verde National Park, or marked hiking trails through dry forest, mangroves and wetlands.
With beautiful view of Nicoya Gulf, mangroves, salinas and nature trails, the refuge offer accommodations on comfortable Villas and warm cabins equipped. It is also a paradise where you will find the perfect point balance between place, excitement and adventure.
Getting to La Ensenada Wildlife Refuge:
From San Jose take the Pan-American Highway until La Ensenada exit and continue for 12 miles (19 km) on gravel road. A four-wheel-drive may be necessary, depending on what the current road conditions are. Now you can also take the new Caldera Highway (route 27), until you get to La Ensenada, passing through the Puntarenas entrance. The Caldera trip takes about 1.5 hours from San Jose while the other takes about 2.5 hours.
From Daniel Oduber International Airport (LIR), drive south on the Pan-American Highway to La Ensenada exit and continue 12 miles (19 km). A four-wheel-drive may be necessary, depending on what the current road conditions are.
By bus
Take a bus from the route San Jose – Punta Morales, which takes about 2 hours and catch the afternoon bus to Abangaritos, where lodge staff picks you up with advance notice, or take a taxi to La Ensenada Wildlife Refuge.
If you didnt find what you were looking for, you can try our Google custom search: