Pejeperro Wildlife Refuge Costa Rica was created on April 5th 2000, to protect lowland areas on the southern Osa Peninsula in the Pacific Coast of Costa Rica.
This refuge encloses the Pejeperro and Pejeperrito Wetlands. It consists of two coastal lagoons partially separated from the sea by strips of sand. They are very beautiful despite having undergone some alterations. Pejeperro Lagoon is really a lagoon with a mangrove swamp and a flooded forest in the northern part, while Pejeperrito is the only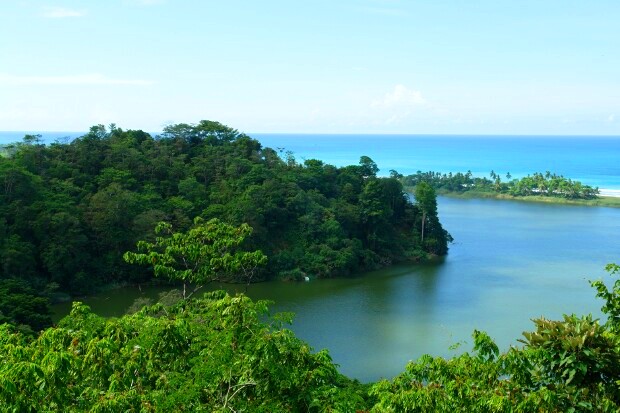 saltwater lagoon in the country, that's why they are so fragile and important ecosystems as breeding sites for amphibians, reptiles and birds, such as the crocodile (Crocodilus acutus), the cayman (Caiman crocodiles) and several species of herons and river turtles. Also, due to its closeness to the Corcovado National Park, this refuge is extremely rich in terrestrial and marine biodiversity species, with large populations of monkeys, sloths, peccaries and coatis, not to mention the birds native to the area as toucans, macaws, trogons, parrots, pelicans and gulls. The refuge has a large population of dolphins, sharks and the spectacular humpback whales and their calves during the months from December to May.
The weather is typical of the Osa Peninsula, hot and humid, a wild and abrupt area with very heavy rains and evergreen forest, making it one of the wettest places in the world. Rainfall is abundant all year long but in October and November it can rain over 700mm, which feeds innumerable waterways and encourages the growth of very tall trees laden with epiphytes. The dry season goes from February through April.
There are no public facilities at Pejeperro National Wildlife Refuge. Other nearby Costa Rican Parks include Golfo Dulce Forest Reserve, Hacienda Copano Wildlife Refuge, Carate Wildlife Refuge, Lagunazul National Wildlife Refuge, Rio Oro National Wildlife Refuge and Corcovado National Park.
Getting to Pejeperro Wildlife Refuge:
From San Jose, take the Pan-American Highway south towards Panama. At the town of Rio Claro, take the exit to Puerto Jimenez. The refuge is about 22 km south of Puerto Jimenez. The total trip from San Jose takes about 7 hours.
By bus
You can take a bus from the route San Jose – Puerto Jimenez, which takes about 8 hours (Transportes Blanco, 2771-4744). From here you can rent a car and drive, take a taxi or take another bus Puerto Jimenez – Carate beach, making the stop at Pejeperro Wildlife Refuge.
You can also take a bus from the route San Jose – Golfito, which takes about 8 hours (Tracopa-Alfaro, 2221-4214). From here you can take rent a car and drive or take a taxi to Pejeperro Wildlife Refuge. In both cases we recommend buying the ticket a day earlier to be sure your seat is saved.
By plane:
You can also take a flight from the Juan Santamaria Airport to the Golfito or Puerto Jimenez Airports, either with Sansa or Nature Air airlines, both with daily flights. From here you can rent a car and drive or take a taxi to Pejeperro Wildlife Refuge, which takes about 30 minutes.
Location: southern Osa Peninsula, district: Puerto Jimenez, canton: Golfito, province: Puntarenas, Costa Rica. Zone postal code: 60702.
GPS Coordinates: 8.436794,-83.399972 (8°26'12.46″N, 83°23'59.90″W)
Size: 441 ha (1,089 acres)
Osa Conservation Area (ACOSA) Telephone: +(506) 2735-5580 / 2735-5276
INFOTUR Tourist Information: 1192
Address map: Click here to view directions from Juan Santamaria International Airport (SJO), Alajuela, Costa Rica TO Pejeperro Wildlife Refuge, Puntarenas, Costa Rica at Google Maps
If you didnt find what you were looking for, you can try our Google custom search: