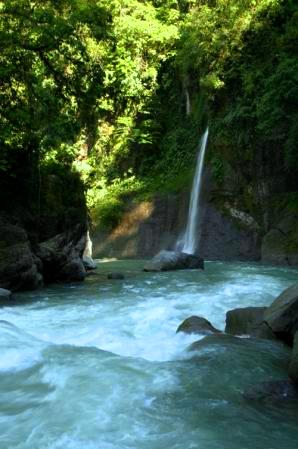 Location:
32km (20 miles) from Siquirres or 35km (22 miles) from Turrialba in Cartago, Costa Rica.
Linda Vista GPS Coordinates: 10.025942,-83.556594 (10°01'33.39″N, 83°33'23.74″W)
Size: 13,178 hectares (32,550 acres)
Telephone:
Caribbean La Amistad Conservation Area (ACLA-C) +506 2795-1446
INFOTUR Tourist Information: 1192
Address map: Click here to view directions from Juan Santamaria International Airport (SJO), Alajuela, Costa Rica TO Pavones, Cartago, Costa Rica at Google Maps
Pacuare River Forest Reserve Costa Rica was created on December 26, 1985, in order to protect forests and river basins of the Talamanca Mountain Range on the Caribbean slopes.
The Pacuare River is considered one of the top five rafting rivers in the world for its scenery and rapids, considered one of the best whitewater throughout Central America. Its waterfalls, magnificent forests and wildlife make this trip an ideal combination to meet the tropical rainforest of Costa Rica, which was named "one of the most beautiful rivers in the world" by National Geographic. Located on the Atlantic slope, the Pacuare River borders the Talamanca mountain range, home to native Cabécar and unique wildlife in the world.
Rio Pacuare Forest Reserve is a virgin forest that is far better known for the river that bears its name than for the forest part, since it is the most popular river for Whitewater rafters and kayakers enthusiasts from all over the world in Costa Rica, with spectacular 20 miles of rapids class III, IV, and sometimes even class V, where there are sections of the river dropping 100' per mile
The Pacuare River is a tropical river, which offers over its course, magnificent scenery and several ravines with dense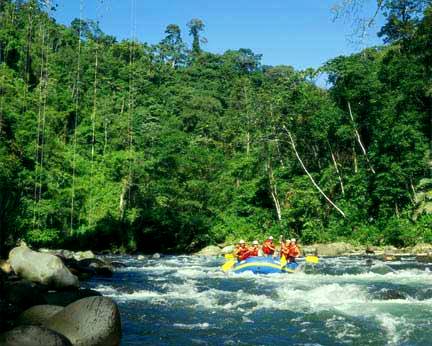 vegetation, with an average temperature of 25°C (70°F) and high humidity, where you might jaguars, ocelots, sloths, monkeys and an incredible variety of birds, butterflies and reptiles.
There are no public facilities at the Rio Pacuare national forest reserve, however, there are several companies that arrange tours to this area. Other nearby Costa Rica park include the Barbilla National Park and the Turrialba Volcano National Park.
Getting to Pacuare River Forest Reserve:
From San Jose take the Guapiles-Limon road (nr. 32), passing through the Zurqui bridge and the Braulio Carrillo mountains. It is likely that you will encounter fog and rain. Please drive with your lights on. After the mountains the road to Limon is practically straight with no hills. Take the Siquirres turn-off. After turning off the highway, follow a rough dirt road until you get to Pacuare River Forest Reserve. A 4 wheel drive is recommended. The reserve has very few services, with limited navigational road signs, and it is advised to bring a local guide with you.
Please note that if you have not left San Jose by 2 pm you will be driving part of the way at night. We do not recommend this for first time travelers driving in Costa Rica. Roads do not have lines, and rain can be bad and there are potholes and people walking/cycling that you can not see very well.
By bus
Take a bus from the route San Jose – Siquirres, which takes about 1.5 hours (Transportes Caribeños, +506 2222-0610 / +506 2221-7990 / +506 2768-9484). From here you can rent a car and drive or take taxi to Pacuare River Forest Reserve, which is about 20 minutes.
By plane:
You can also take a flight from the Juan Santamaria Airport to the Siquirres or Barra del Parismina airports, either with Sansa, TravelAir or Nature Air airlines, both with daily flights. From here you can rent a car and drive or take taxi to Pacuare River Forest Reserve, which is about 15 minutes.
If you didnt find what you were looking for, you can try our Google custom search: