Romelia Wildlife Refuge Costa Rica was created on October 24th 1997, to protect tropical forest and beach areas on the coast of the southern Nicoya Peninsula, part of the Tempisque Conservation Area, near Montezuma, Costa Rica.
It is a buffer zone and part of a biological corridor between Cabo Blanco Absolute Reserve, the Nicoya Peninsula Protected Area and Nicholas Weesberg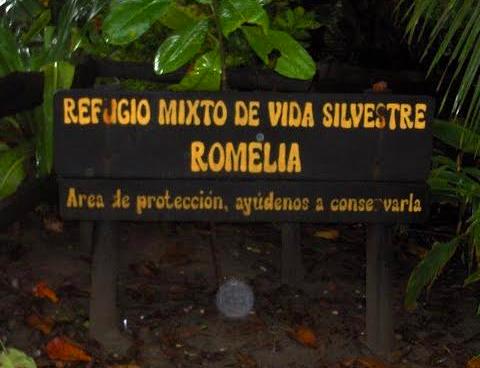 Absolute Nature Reserve, so it's a place with great biodiversity. This protected area was established with the intent to meet the needs of the nearby population to research, recreation, environmental education and sustainable utilization of natural resources.
Sea turtles are a wonderful legacy from the prehistoric times, so it is highly important to help them survive. It is for this reason that in 2009 ASVO started to work in Romelia National Wildlife Refuge with the aim of evaluating and protecting populations of sea turtles that nest on the beaches of the refuge and on adjacent beaches. After dark, ASVO volunteers lead tourists on night patrol to view female turtles digging nests and laying eggs, and then guard the nesting sites from poachers and predators, starting in December. Also, Proyecto Montezuma will offer tours for visitors to witness and protect baby turtles as they exit their nests in the sand and scurry toward the ocean to start their lives in the open waters.
The sea turtle conservation program is a scientific conservation activity in which they try to increase the amount of sea turtle hatchlings to give higher survival possibilities to this beautiful animals and also to the associated ecosystems.
Due to the fact that the refuge is located in a transition area between the dry and wet forest, a unique combination of evergreen trees – never lose their leaves – which are characteristic of the humid rainforest, and trees of the deciduous type, which lose their foliage during the dry season, and are characteristic of the dry forest. The Romelia National Wildlife Refuge has about 140 different species of trees such as Spiny Cedar or "Pochote" (Bombacopsis quinata), the "Guacimo" (Guazuma ulmifolia), impressive "Espavel" (Anacardium excelsum), the "Indio Desnudo" (Bursera simaruba) and the beautiful "Corteza Amarillo" (Tabebuia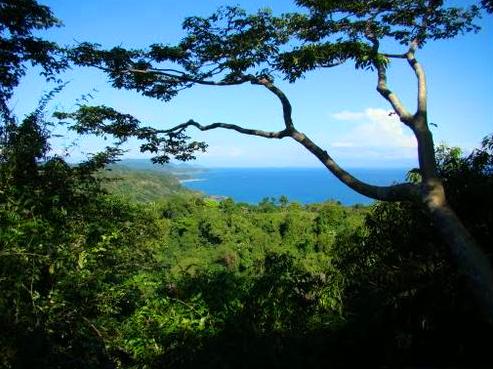 ochracea) which bursts into a yellow spectacle of flowers during the dry months of March and April.
The Romelia National Wildlife Refuge also has a considerable variety of mammals, where predominates the Howler (Alouatta palliata) and the White-face (Cebus capuchinus) monkeys, coaties, coyotes, armadillos, collared peccaries, raccoons, pacas, anteaters, White-Tailed deer (Odocoileus virginianus), ocelots and jaguarondis or margays (Felis wiedii). But the greatest wealth in fauna is in the abundant marine birds, fish, crabs and mollusks found in the shore waters.
The Romelia National Wildlife Refuge is a 30 minutes walk from Montezuma, a beach famous for its breathtaking beauty. It is also near Cabo Blanco Reserve. The campsite is very basic, but has special conditions for volunteers, as drinkable water and showers. Other nearby Costa Rica parks include Curu National Wildife Refuge, Nicolas Wessberg and Cabo Blanco Absolute Natural.
Getting to Romelia Wildlife Refuge:
From San Jose take the Pan-American Highway to Puntarenas, passing through San Ramon and Barranca. Probably the easiest way to get there is by taking the Ferri to Tambor or Paquera. (Tambor Ferri is the largest and most comfortable, we recommend you get to Puntarenas an hour before the ferry leaves), and then drive through Tambor, Cobano and Cabuya. The Administration Station is 2 miles south of Cabuya. To get to Montezuma, continue south for approximately 40 km from Paquera. The refuge lies south of the funky beach village of Montezuma. From here, a four-wheel-drive vehicle is practically a necessity, even during the dry season. Now you can also take the new Caldera Highway (route 27), until you get to Puntarenas. The Caldera trip takes about 3 hours from San Jose while the other takes about 5 hours.
From Daniel Oduber Quiros International Airport (LIR), drive south through Santa Cruz, Nicoya, Nandayure, Lepanto, Paquera, and then drive through Tambor, Cobano and Cabuya. It is a very scenic trip as you go down the coast (this route exemplifies rural Costa Rica and is very beautiful).
By bus
Take a local bus from the route San Jose – Malpais – Montezuma, which takes about 5 hours (Transportes Rodriguez, 2642-0219). We recommend buying the ticket the day before to secure your space.
By plane:
You can also take a flight from the Juan Santamaria Airport to the Tambor Airport, either with Sansa Airlines or Nature Air every day. From here you can rent a car and drive, or take a bus or taxi to Romelia Wildlife Refuge, which takes about 15 minutes.
Location: in Montezuma, district: Cobano, canton: Puntarenas, provincia: Puntarenas, Costa Rica. Zone postal code: 60111.
Paquera GPS Coordinates: 9.821142,-84.935581 (9°49'16.11″N, 84°56'08.09″W)
Puntarenas Ferry GPS Coordinates: 9.977431,-84.848553 (9°58'38.75″N, 84°50'54.79″W)
Size: 168 ha (415 acres)
Tempisque Conservation Area (ACT) Telephone: +(506) 2686-4967 / 2686-4968
INFOTUR Tourist Information: 1192
Address map: Click here to view directions from Juan Santamaria International Airport (SJO), Alajuela, Costa Rica TO Montezuma, Puntarenas, Costa Rica at Google Maps
If you didnt find what you were looking for, you can try our Google custom search: