Location: in Cerro de la Muerte, near the exit to San Gerardo de Dota, in San José, Costa Rica.
GPS Coordinates: 9.615685,-83.818289 (9°36'56.46″N, 83°49'05.84″W)
Size: 5000 ha (12,355 acres)
Altitude: from 2000 up to 3000 meters.
Central Pacific Conservation Area (ACOPAC) Telephone: +506 2416-7878
INFOTUR Tourist Information: 1192
Address map: Click here to view directions from Juan Santamaria International Airport (SJO), Alajuela, Costa Rica TO Empalme, Cartago, Costa Rica at Google Maps
The park encompasses what was previously the Los Santos Forest Biological Reserve, which, after the adoption of the constitution, is now the Los Quetzales National Park, which name is precisely because of the quetzal abundance found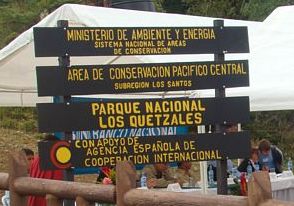 there. The park was created in July 2005, to promote the conservation of these birds and to protect critical habitat for a number of plants and animals that also inhabit the area. It also has the distinction of being the most recent park included in the extensive system of National Parks of Costa Rica. It is a sanctuary of biodiversity in the massif of Cerro de la Muerte, a whole green treasure located at high altitude along the Talamanca Cordillera.
Most of the park straddles by the Savegre River, which originates in the Cerro de la Muerte and empties into the Pacific Ocean near Manuel Antonio. With an average rainfall ranging between 79cm and 188cm, makes the topography of the park beautiful and full of life.
This new conservation area has seven different heights, so its biological variety is wide. With three tropical forest types and fourteen different ecosystems that form in accordance with elevation, have an enormous wealth of flora, fauna and water resources. That is why Los Quetzales National Park has a lot of oaks, cypress, "aguacatillo", ferns and plants, such as the well-known Poor man umbrella, besides all kinds of exotic flowers that mark the landscape, adding a little color to the immense green field. There, multicolored moss living with lichen, fungi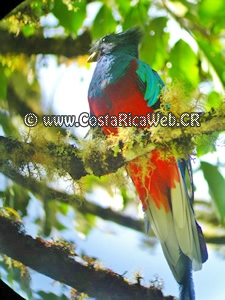 and small vegetation of moor forest on Cerro las Vueltas, about 3000 meters high. Also, the park has the presence of wetlands and seasonal lakes of glacial origin, which has a filtration of water function into the underground parts, so they are purifying and kind of "sponges" that protect natural flooding.
This rich area has about 25 endemic species and some 116 species of mammals such as tapirs, raccoons, armadillos, sloths, peccaries, pumas, coatis, coyotes, porcupines, foxes and cacomistle (relative of the raccoon), among others . In rivers you can find otters and trout. Visitors can also find snakes like the Costa Rican Coralsnake, the Fer-de-lance and the Side-striped Palm-pitviper.
It also has more than 14 endemic birds, so it's no wonder that bird watching is very popular here, offering visitors the chance to say "I'm sure to see one"-referring to any bird belonging to the ecosystem, including species that are as ostentatious as the quetzal, which is abundant in this area. The quetzal (Pharomachrus moccino) lives in wet montane forests where large amount of epiphytes can be found. It breeds in the cloud forests and feeds of "Aguacatillo", among others. In Costa Rica is located in the mountains of Tilarán, Central Volcanic and Talamanca, from 1200 meters to 3000 meters. Although the bird is known to be difficult to observe and capricious, park officials say that the quetzal is easier to find here than in the cloud forests of Monteverde and Santa Elena, which are located to the north, since in the park communities come to be seen up to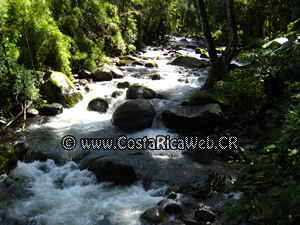 seven individuals together, a very special show, because their behavior is solitary or in pairs. Other bird species that reside in the park include trogones, tanagers, and hummingbirds.
Los Quetzales National Park, located 47 southeast of San Jose, is easily accessible from Manuel Antonio. From Jaco it takes about two hours. The park entrance is on the Cerro de la Muerte, just before the turnoff to San Gerardo de Dota. It is located between Providence and San Gerardo de Dota, on the Talamanca Cordillera and Savegre River Basin.
Getting to Los Quetzales National Park:
From San José take the road to Cartago and take the exit for the Cerro de la Muerte, on the Interamerican Highway, until you reach kilometer 80 or so. Los Quetzales National Park entrance is on your right on the main road.
By bus
Take a bus from the route San Jose – San Isidro de El General – Perez Zeledon which takes about 2 hours, making the stop at Macho Gaf Restaurant (MUSOC, +506 2222-2422 / TRACOPA, +506 2222-2666). From here you can take taxi to Los Quetzales National Park.
If you didnt find what you were looking for, you can try our Google custom search: