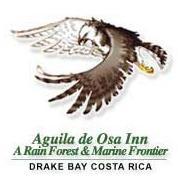 Aguila de Osa Inn Hotel, belonging to the Greentique Hotels chain in Costa Rica, is located in Costa Rica's Osa Peninsula, situated on a high bluff overlooking the Aguitas river with panoramic views of Drake Bay. The hotel has 2 suites and 11 deluxe rooms, all of which feature large Italian tiled bathrooms, cathedral style ceilings, hot water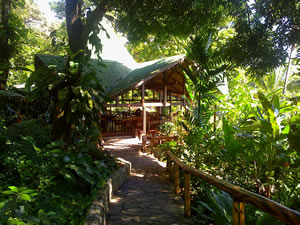 , ceiling fans, hand crafted decor, in addition to drinkable well water that is UV treated with a micro-filtered system and 24 hour electricity. The rooms are separated into three distinct clusters, each offering spectacular views of the lush, tropical jungle that surrounds the hotel. Resting high above the water's edge, the rooms are open and spacious; with mesh windows to ensure a tropical breeze to pass through your room.
In Aguila de Osa Costa Rica Hotel, your dining experience will be set in a tropical atmosphere with ocean views. Its distinctive gourmet cuisine, is created with a uniquely tropical flair; fresh seafood from our boats, pasta, sushi, vegetables and luscious tropical fruits, prepared with simplicity and originality.
Also, the hotel has a variety of daily and nightly tours, designed to help you enjoy and maximize your time while at the hotel. The excursions range from short, low impact birding tours to full day hikes.
Among Osa Peninsula's delights are its remoteness and undeveloped, primitive state. Accessible only by boat, the Drake Bay area is free of roads, cars, and even electricity (the hotel supply their own power 24 hours a day). Reaching out into the Pacific Ocean along the southwest coast, the Osa Peninsula is undoubtedly a priceless natural treasure with an abundance of tropical plants, mammals, insects and over 350 species of birds. It was once described by National Geographic as one of the most biologically intense places on earth. Encompassing Corcovado National Park and Caño Island Biological Reserve, two of Costa Rica's most prized protected areas.
Location: Drake Bay at the Osa Peninsula, district: Sierpe, canton: Osa, province: Puntarenas, Costa Rica. Zone postal code: 60503.
GPS Coordinates: 8.694314,-83.673272 (8°41'39.53″N, 83°40'23.78″W)
Sierpe GPS Coordinates: 8.8598,-83.4708 (8°51'35.28″N, 83°28'14.88″W)
Telephone: +506 2296-2190
Hotel direct number: +506 8840-2929
Fax: +506 2232-7722
Web Site: www.aguiladeosainn.com
Address map: Click here to view address map to Aguila de Osa Costa Rica Hotel in Drake Bay, Puntarenas.