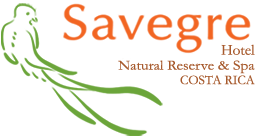 Address:
To reach the Mountain Savegre Hotel, using San José as the reference point, take the Florencio del Castillo Highway to the Southern Interamerican Highway (Route 2), across the mountains of Cerro de la Muerte, until you reach kilometer 80, where you must take the San Gerardo exit, on your right, continue for aproximately 9 miles to the Savegre River Valley.
Location: in San Gerardo, district: Santa María, canton: Dota, province: San José, zone postal code: 11701
Phone: +506 2740-1028
Fax: +506 2740-1027
Toll Free number: 1-866-549-1178
San gerardo de Dota entrance GPS coordinates: 9.603959,-83.790608 (9°36'14.25″N, 83°47'26.18″W)
Savegre Hotel GPS coordinates: 9.551082,-83.807999 (9°33'03.89″N, 83°48'28.79″W)
Website: www.savegre.com
Address map: Click here to view address map to Savegre Mountain Hotel in San Jose, Costa Rica.
Savegre Mountain Hotel, also known as Cabinas Chacón, is located in San Gerardo de Dota, a small mountain community in "El Cerro de la Muerte" (Death Hill) in the Talamanca mountain range, in the midst of a very privileged cloud forest, haven of greenery, mammals, insects, amphibians and about 170 species of birds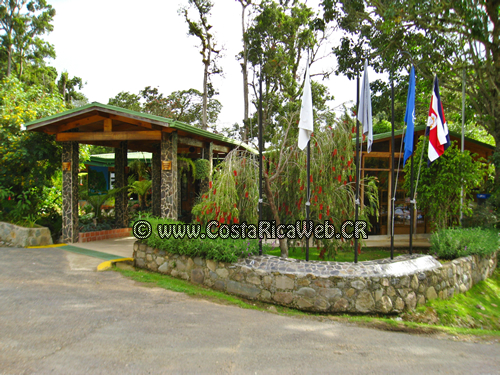 among those Emerald Toucanets, tanagers, hummingbirds, and the amazing quetzal, mythical bird with sacred feathers.
Savegre Mountain Hotel has standard rooms and Junior Suites. All rooms are equipped with heating systems or fireplace, private shower or bath tub, comfortable beds, and all the comforts of a first class service in the midst of the exuberant tropical cloud forest, surrounded by beautiful gardens.
Mr. Efraín Chacón and his family arrived here in 1954 and were pioneers to settle in this beautiful valley. The Chacón Family not only have developed this wonderful hotel, but have taken advantage of the crisp weather to grow apples, peaches and plums. Rainbow trout is abundant in the Savegre River, which is ideal for fishing. The reserve consists of 400 hectares of which 80% is primary forest, and the rest is forest in restoration, including reforestation programs using native species, especially laurels. The area is frequently visited by ecotourists from around the world who come to enjoy the great biodiversity of flora and fauna. Oaks, laurels, bromeliads and orchids are among the most common plants, also, the magnificent Quetzal accompanied by more than 170 species of birds, numerous mammals, amphibians and insects are part of the animal life.