Haga click en el siguiente enlace para leer está página en Español: Hotel El Pórtico Costa Rica

El Portico Hotel has 19 cabin like rooms. All rooms include private bathrooms with bathtubs, shower, hair dryer, safe box, queen size beds, daily housekeeping and free wireless internet connection. Each room is uniquely decorated with antique furnishings in a family-like atmosphere and personalized service.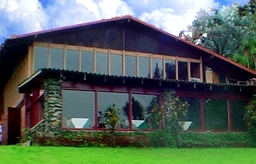 There are also Family Suites, for up to 6 people, with three separate areas (two bedrooms and a living room).
The El Portico hotel also features gourmet dining, complimentary breakfast at Las Tres Marias bar and restaurant; a  swimming pool, jacuzzi, hammocks for resting, sauna, massage room, special events room and gardens with a private jungle trail with a direct access to the river.
Enjoy wonderful views of the mountains surrounding the Barva Volcano, the botanical outdoors with tropical flowers and trees; listen to the streams and exotic birds. This historic volcanic estate is a favorite for travelers seeking a beautiful, romantic destination, where people can experience the sounds of the crashing rivers, waterfalls and enjoy the delicate mist of the warm clouds as they dance on the tropical jungle landscape.
The El Portico Hotel setting is peaceful and only a short drive from the San Jose International Airport. From Heredia, take 126 road to Barva, then to Puente Salas. Turn right at Birri junction, then go north about 4km up the mountain, heading to Braulio Carillo National Park (Barva Volcano).
Location: 4.5 km northeast from Birri intersection; district: San José de la Montaña, canton: Barva, province: Heredia, Costa Rica. Zone postal code: 40206.
GPS Coordinates: 10.084815,-84.122151 (10°05'05.33″N, 84°07'19.74″W)
Telephone: +506 2266-1732
Website: www.elporticohotel.net
Address map: Click here to view address map to El Portico Hotel in Heredia, Costa Rica.