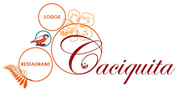 Caciquita Lodge, located 800 meters west from Varablanca Gas Station in Varablanca, Heredia, Costa Rica. Set amongst carefully landscaped gardens surrounded by tropical and aromatic flowers and plants, Caciquita lodge offers eight charming double chalets, a beautiful scenic view of the spectacular countryside, bar and restaurant. The rooms are decorated with cottage style charm, private bathroom, cellphone coverage, Wi-Fi internet, SKY satellite TV and security.
Lodge reception schedule:
Monday to Friday from 7:30 AM to 3:00 PM
Saturdays and Sundays from 7:30 AM to 5:00 PM
Phone: +506 2482-2629
Fax: +506 2482-2459
P.O. Box: 1935-3000
Address map: Click here to view directions from to Caciquita Hotel in Heredia, Costa Rica at Google Maps
Location: district: Varablanca, canton: Heredia, province: Heredia. Postal code: 40105.