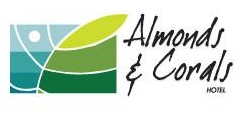 Location: in Manzanillo, district: Cahuita, canton: Talamanca, province: San Jose, Costa Rica. Zone postal code: 70403.
GPS Coordinates: 9.627475,-82.6732 (9°37'38.91″N, 82°40'23.52″W)
Reception schedule: from 7 a.m. to 7 p.m.
Telephone: +506 2759-9056
Central Offices Telephone: +506 2271-3000
Fax: +506 2272-2220
Website: www.almondsandcorals.com
Address map: Click here to view directions directions map to Almonds and Corals Hotel Costa Rica in Manzanillo Beach in Limon.
Almonds and Corals Hotel is located in the heart of the exuberant jungle of Gandoca Manzanillo Wildlife Refuge in Limon, Costa Rica. This hotel is a relaxing place where you can feel the magic of nature at the jungle beach, with an original concept of rooms. It offers three in one unique destinations, because it is part an exclusive Caribbean beach resort, part a safari camp and part an eco-conscious boutique hotel.
Almonds and Corals Hotel has 24 luxurious rooms amongst giant trees in the middle of a rain forest so dense that light rays barely reach to touch the ground. Each room has a jacuzzi, private bath with hot water, hammock, ceiling fans and a mini fridge.The owners are devoted to offer one-of-a-kind accommodations with a unique sensory experience that promotes harmony between inner and outer self. It is noteworthy that the rooms do not have potable water.
Almonds and Corals Hotel has a bar and restaurant, an open pavilion under the trees and near the ocean, where meals are both unusual and tasty, adding to the whole enjoyable experience the music of the Costa Rican Caribbean or if you prefer, the melodies of the Caribbean rain forest and the rhythm of the sea. This naturally includes the Caribbean local cuisine and an assorted international menu. The bar is an ideal meeting place before or after dinner, to exchange stories about wildlife, hear music, play pool or to have a cold beer or sip cocktails on the lounge.
The hotel offers massage services. Imagine being pampered with a full range of spa treatments at its Ocean and Jungle Spa Pavilion, listening to the sounds of the jungle or if you prefer, getting the Scent of the Wild massage in front of the beach, using indigenous blended natural aromatic oils to completely relax and rejuvenate. Almonds and Corals also does reflexology and cooling massages to reduce swelling or pain caused by the flight or car trip.
The Almonds and Corals Hotel also offers kayaks, bicycles, snorkeling equipment and boogie boards rental service, as well as guided tours to the jungle, to Indian Reserves, to Cahuita National Park, Canopy tours, dolphins tours and snorkeling tours, among others.
Almonds and Corals Hotel also provides the perfect place to enjoy a lush tropical and privileged getaway, while combining the opportunity to experience two different cultures, the Bri- Bri's ancient native culture, and the Afro Costarican culture, giving life to nearby Manzanillo picturesque fishing village.
At Almonds and Corals Hotel you will walk amongst an enchanted forest, through trails slightly elevated from the ground, on which you will encounter groups of howler monkeys, as well as being marveled by the flight of the famous Blue Morpho butterfly and a myriad of colorful birds until you get to the magnificent Caribbean sea, golden sand, coconuts and the beautiful bay of Manzanillo where you can almost hear the sound of Calypso music.
It is noteworthy that the Almonds and Corals Hotel was awarded with 4 leaves, from a maximum of 5, of the Certification for Sustainable Tourism of the Government of Costa Rica, as the Gandoca Manzanillo Wildlife Refuge area, where the hotel is located, is an intact source of wildlife.
Getting to Almonds and Corals Hotel:
From the Juan Santamaria International Airport drive for about 8 km in direction to San Jose, on your right you should see the Hospital Mexico, take the exit to your right, to La Uruca (on the roundabout, the third exit). Turn right at the traffic lights and continue to San José (keep on the middle lane as much as possible) until you get to a gas station at a Y-junction, keep left. Take the exit Guapiles-Limon and follow the road #32 to Limón, passing through the Zurqui bridge and the Braulio Carrillo mountains. It is likely that you will encounter fog and rain. Please drive with your lights on. After the mountains the road to Limon is practically straight with no hills.
When you reach Puerto Limon, just before you enter the city, at a gas station you should exit to the right, following the road signs to Puerto Viejo, continue on the coast all the way down. You will pass through the communities of Puerto Viejo, Cocles, Chiquita and Punta Uva until you get to Manzanillo. You will see the hotel entrance on your left. This route requires a total of five hours from San Jose.
Please note that if you have not left San Jose by 2 pm you will be driving part of the way at night. We do not recommend this for first time travelers driving in Costa Rica. Roads do not have lines, rain can be bad, lighting is poor and there are potholes and there could be people walking/cycling.
Click the photos to view them larger