The Marine Historic Museum of the Puntarenas City not only is an aquarium with marine life up to the Cocos Island National Park, full of fresh and salt water species, but it also shows the natural beauty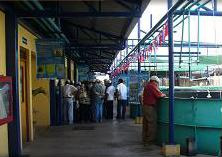 of the Puntarenas Port, the wealth of its history and the Puntarenas people charm. At its different sites on natural history, archeology and history, is reflected the way of life that for thousands of years has developed in this region. Archaeological information has allowed to know about the first settlements of indigenous groups in the region, the way how they got their food, taking advantage of the various resources of the area, types of burial practices and the terms of trade and commerce therein.
The story focuses on the Puntarenas city, although the province includes part of the North, Central and Southern Pacific areas in Costa Rica, it has grown more independent and distinct from the rest of the province. In this same manner we will be taken to the past and learn how the Puntarenas Port became one of the most important in the country and some of the traditions and religious celebrations of the Puntarenas people, characterized by its diverse geographical and cultural origins.
The museum displays the diversity of natural resources of the area, including its wetlands, forests, marine life, land animals and birds. The museum outlines the importance of the Nicoya Gulf and the islands that are in it. Delves further into the natural wealth of the Cocos Island and tells about pirates and their treasures. It is located in the Former Plaza police headquarters building in downtown Puntarenas.

Address: Former Plaza police headquarters building in downtown Puntarenas, district: Puntarenas, canton: Puntarenas, province: Puntarenas, Costa Rica. Zone postal code: 60101.
GPS Coordinates: 9.976564,-84.827625 (9°58'35.63″N, 84°49'39.45″W)
Hours: From Tuesday to Sunday from 9 a.m. to 5 p.m.
Website: www.parquemarino.org
Fax: +(506) 2661-0633
Telephone: +(506) 2661-5272
Address map: Click here to view directions from Juan Santamaria International Airport (SJO), Alajuela, Costa Rica TO the Marine Historic Museum of Puntarenas City, Costa Rica at Google Maps
If you didnt find what you were looking for, you can try our Google custom search: