Costa Rican Jewish Community Museum is a cultural nonprofit institution founded in September 2005. It is an educational, scientific, cultural and research center attached to the Costa Rican Jewish Zionist center (CISCR in Spanish) whose only desire is to inform as many people as possible, about some of the most outstanding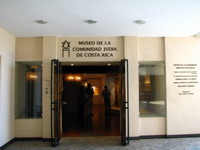 characteristics of this ancient culture. Its main mission is to collect, document, preserve, interpret and disseminate the knowledge and the material and spiritual life from the past and the present of the Jewish community in general and Jews in Costa Rica in particular.
The Costa Rica Jewish Community Museum is the product of dreamers and makers, some already left, others are still with us. What this museum holds in its walls, objects and texts are stories, sorrows and joys of an ancient community that has lived and traveled many places and lived many times. The Costa Rican Jewish community dedicates this effort to all the Jews of the world and of our country, to the presents and absents, to past, present and future generations as a legacy of what they have been and will be. This museum will serve as a meeting point of hope and solidarity for a community looking for a better tomorrow, as did ancestors and early migrants. The museum offers a comprehensive tour of Jewish culture in general, the arrival of Jews in Costa Rica and also addresses the Holocaust subject, a subject of great interest since it is included in the educational programs of the Public Education Ministry.
The Costa Rican Jewish Community Museum is a cultural contribution to their visitors, not intended to be neither religious nor political, but to offer a comprehensive tour through the Jewish history and culture. To achieve this task, the museum offers the following:
Overview of Culture and the Hebrew Tradition
With explanations of items such as: festivals, fundamentals of Judaism, ceremonies such as circumcision, marriage, reading of the Torah (Law), the meaning of some Jewish symbols, among others.
Arrival, establishment and consolidation of the Jews in Costa Rica
Arrival of Jews to the country, their motives, where they came from, their first jobs, the former synagogues and the Jewish community today in Costa Rica. Projected in a 10 minutes film.
Holocaust (Shoah)
Brief narration of what happened in the Holocaust (Shoah) during WWII. It shows a survivors testimonials film, which lasts 15 minutes. The journey takes approximately 2 hours and a half, but may be shortened if the visitors want.
The entrance to the museum is free, but you need to request an appointment and give your personal data (and of those who will accompany you as well), preferably one week in advance. The requested data is: full name, both last names (Costa Rica uses two last names), I.D., passport or resident number, place from where you visit and any phone number to reach you if necessary. The museum has a restaurant and coffee if you get hungry (kosher food) and also offers group packages, which must be coordinated in advance.
Address: Costa Rica Zionist Jewish Center, next to AyA in Pavas, district: Pavas, canton: San Jose, province: San Jose, Costa Rica. Zone postal code: 10109.
GPS Coordinates: 9.937256,-84.117714 (9°56'14.12″N, 84°07'3.77″W)
Schedule: from 10 am to 2 p.m. by appointment.
Website: www.museojudiocr.tk
Phone: + (506) 2520-1013
Address map: Click here to view directions from Central Park, San Jose, Costa Rica TO the Costa Rica Jewish Community Museum in San Jose, Costa Rica at Google Maps