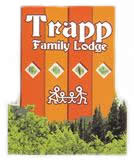 The Trapp Family Lodge Hotel is a great choice for an unforgetable vacation, surrounded by a paradise of flora and fauna, where visitors will be able to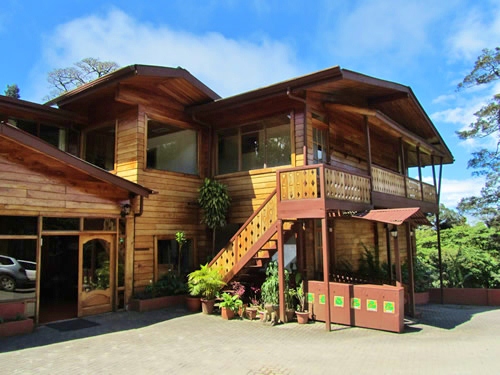 enjoy Monteverde´s incomparable beauty.
Wether you prefer comfort,the feeling of being in the middle of a charming cloudforest, or a genuine family hospitality, you have choosen the right place. The nearest hotel to the famous Monteverde Cloud forest Reserve, The Trapp Family Lodge offers that in one place.
The Trapp Family Lodge Monteverde has 26 spacious and cozy guest rooms, each with two queen size bed, private bathroom and hot water, telephone, hairdryer, cable TV and a venetian window, which grantees that you will not loose the placid sansation of being located in the middle of the Monteverde Cloud Forest, surrounded by beautiful gardens to enjoy the privileged nature of Monteverde.
The hotel also offers a great bar and restaurant just waiting for you, a nice living room, laundry Services and guided Tours yo enjoy all Monteverde's attractions.
The Trapp Family Lodge Hotel, surrounded by lovely cloud forest vegetation, is undoubtedly the ideal place for nature lovers offering an "away from it all" site with a friendly atmosphere.
Getting to Trapp Family Lodge Monteverde:
Take the Panamerican highway north for about 149km. Turn right at the exit to Sardinal, and continue for 34km to Monteverde, follow the signs to the Monteverde reserve. The Trapp Family Lodge Hotel is the nearest hotel on the right hand side just before you arrive to the Monteverde Cloud Forest Reserve. Buses depart at 6:30am & 2:30pm from the old Puntarenas bus station, located at Calle 14, Avenida 11 & 9. The morning bus passes by Lagartos at about 9:00am arriving to Monteverde at 11:00am. The afternoon bus passes by Lagartos at about 5:00pm arriving to Monteverde at 7:00pm.
Location: 1km before the entrance to Monteverde Cloud Forest Reserve, district: Puntarenas, canton: Monteverde, province: Puntarenas, Costa Rica. Zone postal code: 60109.
GPS Coordinates: 10.301492,-84.801444 (10°18'05.37″N, 84°48'05.20″W)
Phone: +506 2645-5858
Fax: +(506) 2645-5990
Website: www.trappfam.com
Address map: Click here to view address map to Trapp Family Lodge Hotel in Monteverde, Puntarenas, Costa Rica.