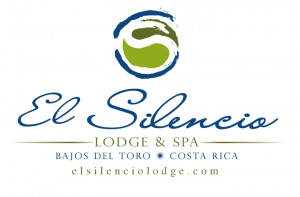 El Silencio Lodge and Spa Hotel, is located in the heart of Volcanic Central Valley's tropical cloud forest, Costa Rica. It is an eco luxury hotel, a destination where daily stress hushes and the sounds of nature bloom, certainly a relaxing place where you can feel the magic of nature that provides the cloud forest.
El Silencio Lodge and Spa features sixteen upscale cottage suites interspersed in a tiered layout. Each suite sits on above-ground pillars to respect the forest's natural topography. Each one features a king-sized bed sits across floor-to-ceiling sliding glass doors and is outfitted with luxurious linens and a cloud-top mattress, bamboo ceiling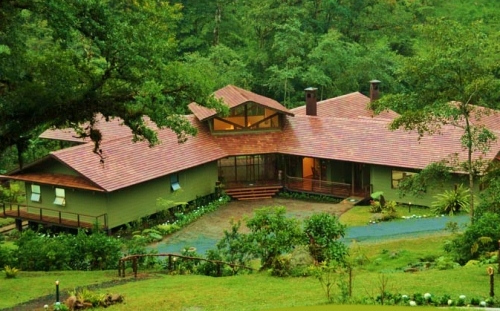 tiles, energy-efficient lighting, a gas fireplace, private bathroom with hot water, viewing deck with rocking chairs and an enticing outdoor whirlpool tub with spectacular mountain or river views.
The main building faces the base of a tree-lined canyon, embracing nature at its most whimsical. It houses the restaurant, coffee lounge, media room, reception, gift shop and features a large outdoor deck area and fire pit. Its Bar and Restaurant offer a menu of both local and international cuisine variety. The hotel also has an organic greenhouse, which provides fresh, flavorful, and nutrient-rich ingredients that single out Las Ventanas Restaurant as Costa Rica's most innovative culinary destination.
The Esencia Spa, by El Silencio Lodge Hotel, lets you enjoy relaxing massages, facials, and body wraps, as well as al fresco Yoga Deck and the Conical Room, designed to channel the Costa Rican forest's life energy.
El Silencio Lodge and Spa Hotel features 500 private acres of carbon-offsetting tropical cloud forest, with 8 km of trails to discover its intimate nooks, crystal streams and hidden waterfalls, offering a unique natural immersion experience that reflects elements of Costa Rica's traditional rural farms and countryside homes. El Silencio Lodge & Spa Hotel protects 90% of their property, providing a biological corridor between Juan Castro Blanco and Poas Volcano National Parks.
On the other hand, El Silencio Lodge & Spa Hotel also offers a variety of activities such as horseback riding, river rafting, mountain biking, and canopy zip-lining. All this and more, makes the hotel an ideal place for honeymoons, relaxation getaways, nature lovers, family retreats and wellness travel.
It is important to mention that El Silencio Lodge and Spa Hotel was featured by Condé Nast Traveler and Travel + Leisure as one the world's most promising new luxury hotels (2008), as well as 2011 Conde Nast Traveler's "Readers' Choice Awards, Best Resorts in Central & South America".
Getting to El Silencio Lodge and Spa Hotel Costa Rica in Toro Amarillo:
From the Juan Santamaria International Airport head North along the Pan-American Highway and take the Naranjo exit. Continue for some 6 miles (10.5 km) following the signs that read Zarcero or Arenal Volcano until you reach the town of Zarcero. When you reach Zarcero, drive past the topiary sculpture garden park and look for a sign for Bajos del Toro on the right hand side. Turn right following the sign. This road will guide you directly to Bajos del Toro. The last 2 miles are on gravel. Follow the final gravel stretch until reaching a paved t-intersection. Turn right and then take an immediate left at the El Silencio Lodge & Spa welcome sign. This route requires a total of 1.5 hours from San Jose.
From Arenal / La Fortuna follow the signs towards Muelle and continue on to Aguas Zarcas. Turn left at the intersection and head for Rio Cuarto. From Rio Cuarto, you will make a right turn towards Sarchi. Look out for the El Silencio Sign. You may also spot signs for Toro I and Toro II hydroelectric plants. Drive down this road for about 25 miles (40 kms) until you arrive at Los Bajos de Toro Amarillo. Continue through town. You will see the El Silencio welcome sign on your left.
Location: in Bajos del Toro, district: Toro Amarillo, canton: Valverde Vega, province: Alajuela, Costa Rica. Zone postal code: 21203.
Postal Code: 21203
Zarcero GPS Coordinates: 10.188444,-84.391222 (10°11'18.48″N, 84°23'28.40″W) (10°12'57.74″N, 84°17'58.26″W)
Reception schedule: from a.m. to p.m.
Telephone: +506 2761-0301
Fax: +(506) 2761-0302
Website: www.elsilenciolodge.com
Address map: Click here to view address map to El Silencio Lodge and Spa Hotel in Toro Amarillo, Alajuela, Costa Rica.