Haga click en el siguiente enlace para leer está página en Español: Hotel Casa Marbella Costa Rica

Casa Marbella Santa Teresa Beach Hotel, Costa Rica is a boutique style hotel, centrally located in Santa Teresa, across the street from the beach on a hill overlooking the Pacific Ocean. It is easy to get lulled by the cool afternoon breeze and the rhythmic motion of the ocean, since each room comes with an ocean view
Casa Marbella Hotel offers a comfortable ambiance in the midst of the Costa Rican tropics, inviting guests to explore some of the most pristine beaches in the world with style, comfort, and security.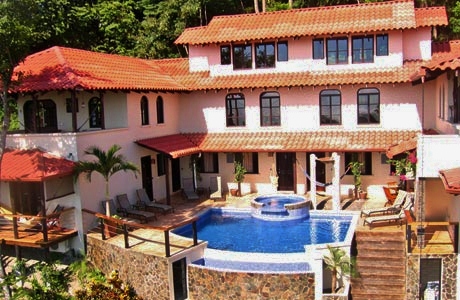 At Casa Marbella we offer the variety of 3 different types of accommodations (with one, two or three bedrooms option), with private bathroom, mini-fridge, coffee-maker, wi-fi, DVD, A/C and safe box, each connected to their refreshing pool with infinity edge. Also, some have kitchen, living room and private balcony with ocean view.
Admire the beauty of the local scenery at Casa Marbella Hotel or simply relax by the pool. Anyway, at the end of the day, you have experienced one of the most spectacular sunsets of the Pacific Ocean.
Getting to Casa Marbella Santa Teresa Beach Hotel:
From San José go to Puntarenas and then take the Ferri to Tambor or Paquera. (Tambor Ferri is the largest and most comfortable, we recommend you get to Puntarenas an hour before the ferry leaves). Go through Tambor to Cobano. In Cobano cross the village and after about 8 miles, and just before the beach, there is a junction, turn right onto Santa Teresa. Continue along the road to Super Ronnie, and then turn right for about 120m until you reach the hotel at your left. This route requires a total of five hours from San Jose.
From Daniel Oduber Quiros International Airport (LIR), drive south through Nosara, Samara and Coyote, cross the Bongo river and continue through Manzanillo to Santa Teresa. Between Ario and Manzanillo you can continue through a stretch of beach. Make sure there is low tide and only use a 4×4 vehicle for this route. It is a very scenic trip as you go down the coast (this route exemplifies rural Costa Rica and is very beautiful). Or you can reach the junction that leads to Ario Beach and go through the mountains, this way takes longer, but it's the official road and its use is not dependent on the tides.
Location: 125 m East from Super Ronnie in Santa Teresa, district: Cóbano, canton: Puntarenas, province: Puntarenas, Costa Rica. Zone postal code: 60111.
GPS Coordinates: 9.629946,-85.152798 (9°37'47.8056″N, 85°9'10.0728″W)
Telephone: +506 2640-0749 / +506 8350-3596
Tambor Ferri Telephone: +506 2661-2084
Address map: Click here to view address map to Casa Marbella Santa Teresa Beach Hotel, Costa Rica.