Haga click en el siguiente enlace para leer está página en Español: Museo de la Tortuga de Costa Rica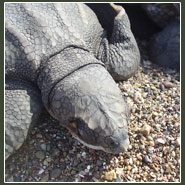 The Turtle Museum Costa Rica is dedicated to educate about the flora and fauna of the Tortuguero region, especially about the turtles, their origins, the Caribbean Conservation Corporation history and also aims to raise awareness about the dangers that wiles turtles today. The museum has ample space with ramps and access for the disabled, souvenir shop, guided tours at the museum, lectures and workshops on environmental education, school visits and guides training.
The Turtle Museum is located in the John H. Phipps Biological Station of the Caribbean Conservation Corporation (CCC) in Tortuguero, Limón.
Address: John H. Phipps Biological Station in Tortuguero, district: Colorado, canton: Pococí, province: Limón, Costa Rica. Zone postal code: 70206.
GPS coordinates: 10.342728,-83.424672 (10°20'33.82″N, 83°25'28.82″W)
Schedule: From Monday to Saturday from 10:00 a.m. to 12:00 p.m. and from 2:00 p.m. to 5:30 p.m. Sunday from 2:00 p.m. to 5:30 p.m.
Website: www.cccturtle.org
Phone: + (506) 2709-8091, 2709-8125.
Address map: Click here to view directions from Juan Santamaria International Airport (SJO), Alajuela, Costa Rica TO the Turtle Museum in Limon, Costa Rica at Google Maps
If you didnt find what you were looking for, you can try our Google custom search: