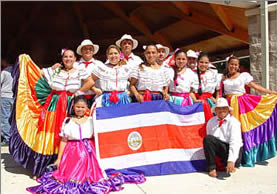 The typical costumes represent one of the most important elements of the Costa Rican historical and cultural heritage. In Costa Rica several regions use this costumes, keeping always the features of the ancient tribes that settled in our country.
One of the most typical costumes used in Costa Rica is the one where the women uses a wide dress with a vivid color "gola" (skirt), sandals on her feet and a braid with a flower in the hair. The man uses a simple costume with vivid colors such as blue and yellow, a kerchief on his neck and a red belt , the belt is removed when the dance begins.
The typical costume of our countryman can be grouped into: Gamonal (ceremonial costume of the Indian chief), the work one, the party one, and the one who was appropriate according to the different occupations of women.
Every town or country, according to their development process, will cultivate a set of beliefs, behaviors and knowledge, which are transmitted from generation to generation. Costa Rica has an extraordinary wealth of cultural events redeemable as local traditions, legends, music, dance, local festivals, etc., as they constitute a vital part of this nation.
Currently the typical costume of Costa Rica was so widespread that changes occur in the combination of colors uses, but always with the predominant and vivid colors.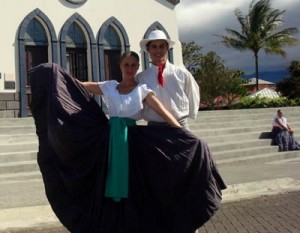 In women, the typical costume is with a white flounced or ruffled blouse with trimming in different color combinations, although the prevailing of the patriotic colors. A wide flounced or ruffled skirt, long to the ankles and bright colors. Leather sandals on their feet, flower adorns on her head, earrings and flower baskets. Some of them wear apron that match with theirs blouse.
Man pleads a white hat brim, with neckerchief with a knot in front, sometimes with a saddlebag on his shoulder, white or light colored shirt, like the long pants, a big belt as an adorn in his waist and some uses "machetes". Footwear is leather sandals (Caite).
This typical costume is currently used for Costa Rican celebrations, festivities and cultural events. Ms. Emma Hütt de Montes de Oca, contributed to the promulgation of the decree by which it was established the "Punto Guanacaste" as the national dance.
Ms. Evangelina Quesada de Núñez was one of the persons who drove over the typical costume of Costa Rica. Since 1917 she began an invaluable work of redemption of the Costa Rican dances, with the sole purpose of saving from oblivion so we can preserve them for the next generations.
Description of the typical costumes of each province:
San José
The woman wore a flounced or ruffled skirt and blouse. The shirt bore a black ribbon. In the neck wore a black velvet ribbon dangling a gold locket and her hair were adorned with flowers.
Cartago
The women's costume consisted of a blouse or "cotona", adorned with fine lace, some brought in from United Kingdom.
The men wore a calico jacket. Beaver hats, which could be white or black. Men used linen tie, jackets or vests.
Alajuela
The typical attire used by the women consisted of a white cotton camisole with several little flounces or ruffles narrows, without any adornment, but lots of vivid colors. A soft colored silk skirt, with one or two flounces or ruffles width at the bottom. In the neck, they uses a little black velvet ribbon with a gold cross or medallion. Combing braids were decorated with ribbons, flowers and combs. Usually they were barefoot, but sometimes used patent leather boots.
The city man wears white cotton shirt or blanket with long sleeves, colored straight collar girdle and buttons in front, big red handkerchief around his neck with a knot. They wore a gold ring. The pants were blue jeans. Usually they were barefoot or with any kind of shoes.
Heredia
The lady dressed in black or other dark color. The shirt was of cotton cloth or silk and ultimately could have a fine printed silk; the neck was high and possessed fine buttons. The skirt was long, leaving bare the ends of the black patent leather booties. Moreover, it was wide, with gathered sides and a black silk towel behind his back.
Guanacaste
Costumes used by the inhabitants of this province has changed throughout its history. For the "Botijuela" dance, they were a dress with plentiful lace and flounces or ruffles; combed high and suede buttons. A distinction is made between older and younger women. The first ones were big scarf and the second ones were a mantilla or blanket. During the colony, the general costume for women consists of a white cotton skirt with an ornamented flounced or ruffled end up. The blouse was with a neck eyelet style and sleeve pants.
The man wears white cotton pant and a camisole. The sleeve camisole held straight without cuffs, neck trim or folded, glued to the front forced camisole but on a different color. They also wear a hat.
Puntarenas
Women wear traditional dresses, covered with thick flounces or ruffles. Above it they were a big Madrid style scarf. During Holy Week, this was used with sequins and colored flowers colorful muslin. They were pointed boots and leather boots or it could be of black patent leather. Another clothing range was a fan in their basic clothing.
Limón
Mainly to the late nineteenth and early twentieth century's, women wore a cotton blouse with lace, color trims. Her skirt was with printed cloth. In other cases, they used dresses. They always wear an African turban. By 1960, they also wore the carnival dress.
If you didnt find what you were looking for, you can try our Google custom search: